Hyderabad: Major fire broke out at PNM Life Sciences, near IDA Bollaram, in Sangareddy District of Telangana. A blast was heard at around 5.58 pm on May 21. Three workers present at the plant were injured. Residents of Ameenpur allege that the blast happened resulted in a huge sound from the Industrial Area side in Bollaram. Following this the authorities have cautioned people living around to stay indoors.
It is said that the company Sree Harsha Organics had leased out the unit to PNM Life Sciences, where the blast took place.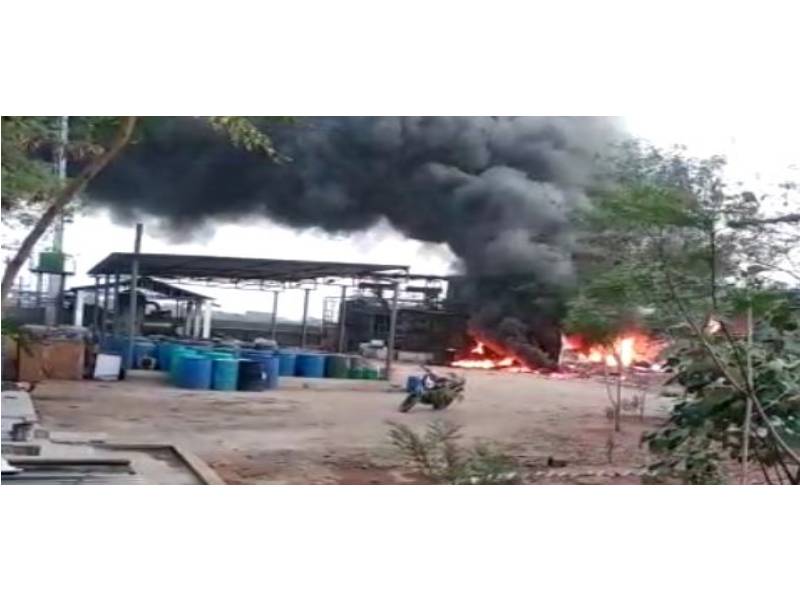 A resident of Ameenpur, Surendra Uplenchiwar, said, "My home is three kilometres away from the industrial area. We could hear the blast quite loudly. There was a lot of smoke coming from that direction.
He further added, "It is a small scale industry which is a solvent Distillation and Recovery and Piperazine recovery.
The site was inspected by Pollution Control Board officials, during the visit it was observed that the process shed is completely damaged due to fire accident. The PCB patrolling teams monitored the site to ensure there is no smoke and gaseous emissions . At present the situation is completely under control and normal activities are going on surroundings of the unit.'
However a caution messaging has been sent forth to all requesting people living in the vicinity to stay indoors. "Dear all, there is a reactor blast in a chemical factory, please stay home with wet mask on. Smell has already approached the lalabhai colony. As suggested by municipal commissioner, please stay in doors', said the message. More details awaited.