Hyderabad: Andrew Fleming, the British Deputy High Commissioner to Andhra and Telangana, was in for a shock when he witnessed water flowing from a broken pipe in the construction site near the Roastery Coffee House in Banjara Hills earlier this morning. He immediately took to social media to bring it to the attention of the concerned authorities. Fleming, who is an active Twitter user, regularly reacts to social issues around him and has around 17.6K followers.
A shocking waste of fresh water from a broken pipe in the construction site down the hill from The Roastery Coffee House in Banjara Hills. Hope this can quickly be abated.#SaveWater #SaveOurPlanet pic.twitter.com/Zz7s3EiktB

— Dr Andrew Fleming (@Andrew007Uk) October 1, 2019
The twitter users of Hyderabad quickly took initiative by tagging officials from GHMC and Hyderabad Metropolitan Water Supply and Sewerage Board (HMWSSB).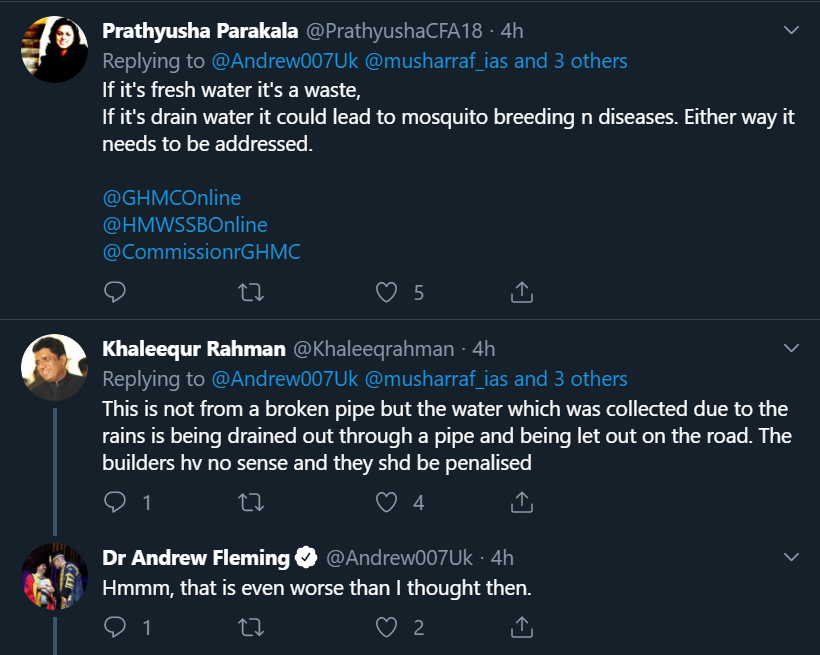 Most netizens commenting under his tweet were also concerned whether it was fresh water or water from the drains since it wasn't specified in the image.
The relevant authorities responded to Fleming's tweet after a few hours. Musharraf Ali Faruqui, Additional Commissioner to GHMC, tweeted confirming that it is actually rainwater being pumped out of a cellar and that the violators will be penalised soon.
Thanks @Andrew007Uk for bringing it to our notice. It is rain water being pumped out of cellar. Violator will be shortly penalised.

— Musharraf Ali Faruqui (@musharraf_ias) October 1, 2019