Fact Check: British PM Boris Johnson's remarks on Track and Trace app for Covid-19 are FALSE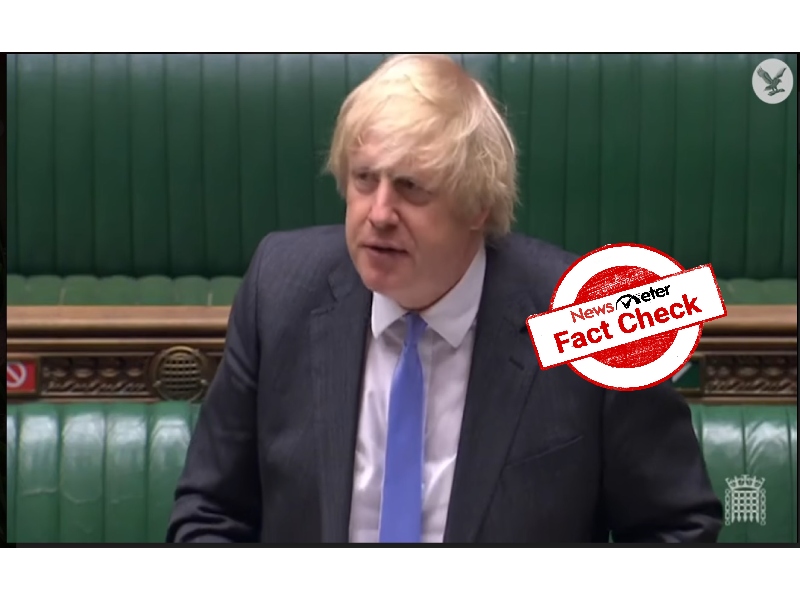 Hyderabad: On June 23, 2020, British Prime Minister Boris Johnson, speaking in the British Parliament, stated that no country currently has "a functioning track and trace app" for countering Covid-19.
His comments drew criticism from politicians of many countries as other than Indian government, there are countries like Australia, Austria, France, Germany, Japan, Singapore and many others which have launched apps.
Fact Check:
The claim made by British Prime Minister Boris Johnson is FALSE.
Here is the list of the contact tracking apps released by various European countries, published in lbc.com.
The Indian government has launched the Aarogya Setu contact tracing app in April, 2020, to help track Coronavirus patients and the people they come in contact which has been the most downloaded app in health and fitness sector, ever since it was launched.
It is available in 11 languages and launched on both Android and iOS. It uses Bluetooth technology to allow people to check whether there is a Coronavirus case in their vicinity.
According to the Aarogya Setu Data Access Knowledge Protocol, "The Aarogya Setu mobile application is a useful technological solution developed to facilitate contact tracing of persons infected with Covid-19, informs persons at risk of precautions to be taken and allows the health department to take effective action to mitigate the spread of the pandemic and enhance their preparedness.
According to @SetuAarogya, the official Twitter account of Aarogya Setu, the app crossed 110 million downloads by May 21, 2020.
According to https://www.globaltimes.cn/content/1192098.shtml German coronavirus tracing app downloaded 6.5 million times as on 18th June, 2020.
According to a report by app analytics firm, App Annie, "Aarogya Setu in India #1 by daily downloads among health and fitness apps across both iphones and Google Play, since its launch on April 2, 2020 till June 23, 2020. The app has also maintained a position in the Top 10 for overall rankings by daily downloads in India on iPhone and top 20 for overall rankings by daily downloads on Google Play," the post says.
Mr Johnson's spokesman later clarified his comments, saying: "A number of countries in the world do have apps, but not ones that fully and reliably record everybody's contacts in a way that allows for comprehensive test and trace, and not in a way that we would reliably be able to take a decision on telling people to self-isolate or not."
Hence, the comments made by British Prime Minister Boris Johnson are FALSE.
Claim Review :
British PM Boris Johnsons remarks on Track and Trace app for Covid-19
Claimed By :
Social Media User