Hyderabad: With COVID19 having spread to almost 114 countries, the World Health Organization (WHO) has declared it as a pandemic. In India, a Karnataka man became the first patient to succumb to coronavirus. While there is a coronavirus scare in the city, a bizarre twist came with the image of a press note purportedly from a US university claiming that consuming alcohol can reduce the risk of coronavirus.
The press note has been widely shared on WhatsApp.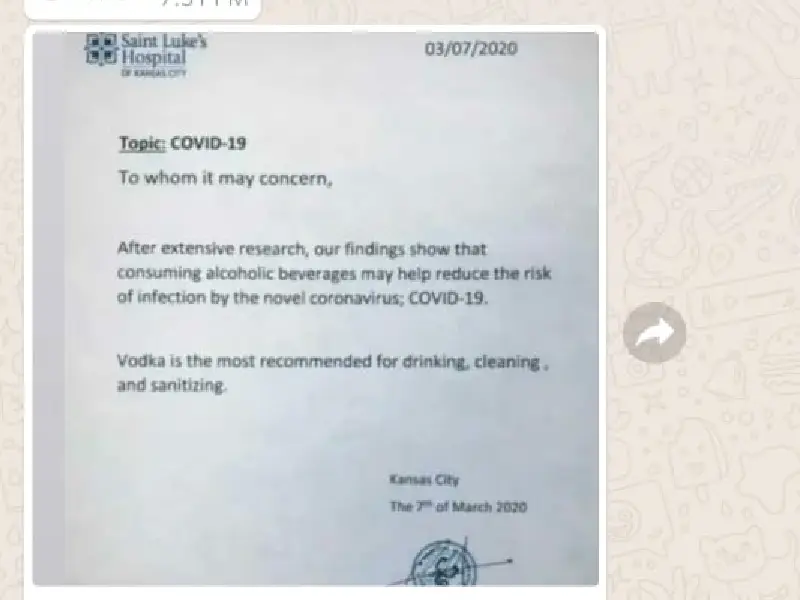 Fact Check:
NewsMeter team found that the image that is being circulated is a fake and it is medically proven that alcohol cannot reduce the risk of coronavirus.
In the press note, the name of the university, 'Saint Luke's Hospital of Kansas City' is clearly mentioned. When searching for the university name, we could find its Facebook page, where they have clarified that the press note bearing their logo is false.
The hospital authorities also held a press meet to clarify that the advice that is being circulated using their logo is fake.
A local media channel KMBC news 9 quoted Emily Hohenberg, director of media relations with Saint Luke's Health, stating that, "We have received a request from all over the globe – Lebanon, Saudi Arabia, Philippines, Finland, India, to name a few, as well as people here domestically about if we sent out this information. We know this can be confusing since whoever created this is using our logo and making it seem like it is a recommendation."
https://www.kmbc.com/article/saint-lukes-cautioning-against-fake-coronavirus-prevention-tip-using-their-logo-covid-19-hospital-kansas-city-missouri/31405302#
Iran media also reported that a fake message was circulating that drinking alcohol could cure coronavirus. Due to this, around 44 people died after consuming illicit liquor. It had substituted toxic methanol for ethanol and bleach was used to mask the colour, the health officials were quoted as saying.
https://www.klfy.com/health/coronavirus/44-people-killed-from-alcohol-poisoning-in-iran-trying-to-ward-off-coronavirus/