Caught on video: Hyderabad top cop Avinash Mohanty thrashes protestors in anti-CAA tiranga rally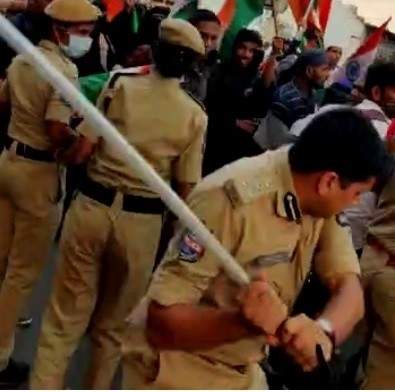 Hyderabad: After the Tiranga rally witnessed thousands flocking towards Mir Alam Eidgah on January 10, new videos have surfaced on social media showing how Hyderabad police had 'dealt' with the protestors.
In a video from Twitter, the Deputy Commissioner of Police, South Zone, Avinash Mohanty can be seen thrashing protestors with a lathi. The protestors, who were returning from the tiranga rally at Shastripuram to Purana Pul, can be seen fleeing from the lathi blows to a safer area. Although most of the protestors who were walking towards Mir Alam Eidgah were mostly female, the police officer can be seen targeting the men specifically, attacking them with the lathis, as if to shoo them away.
S.Q Masood, the Twitter user, who had posted this video on the micro-blogging site told NewsMeter that he had obtained this video via WhatsApp. "The police officer seemed to be in an aggressive mode yesterday. The incident seemed to have happened sometime between 12-1 pm in the afternoon, where the protestors where moving from Purana Pul to Eidgah Mir Alam, to join the rally with their tri-colour flags."
Taking to Twitter, he reacted saying that if this action was due to obstruction of traffic, the police is responsible to give proper explanation. "Mr. Mohanty DCP SZ beaten to peaceful protesters at Puranapul. we strongly condemned this act & demands to @TelanganaDGP to seriously look into this. meanwhile we understand that traffic obstruction can b reason of his frustration. If so same must b reflect in other cases as well," he tweeted.
Another Twitter user named Azgar Khan condemning the police action had tweeted, "This is horrific, the protestors were walking peacefully. Why lathicharge? Is he really an IPS? What constitutional right grants him to Lathi Charge peacefully walking protestors? Why shouldn't be suspended for resorting to violence?"
Commenting on the incident, in-charge DCP Avinash Mohanty told NewsMeter, "The meeting was permitted around 2-3 kms away from Purana Pul. While the meeting was over at 4 pm, these people were walking in procession at 5 or 5.30, which is not permitted. It's not an attack, because a group of 30-40 people were creating traffic jam for a stretch of 1 km. If thousands of vehicles are coming back from the protest, and they block one side of the road, how can traffic go? After you're told by the police, why not go to the side? Also, that location is communally sensitive. We just dispersed one or two so that the rest would scatter. Only two people were mildly dispersed, nothing was done to anybody else."
The tiranga rally called by the United Muslim Action Committee on January 10, from Mir Alam Eidgah to Shastripuram was largely peaceful, with no untoward incidents reported. There is no clarity as to why Hyderabad police took to such violent measure in order to ease traffic.
Meanwhile, a complaint has been filed at Banjara hills police station by one Mr. Syed Abdahu Quadri for taking action against In-charge DCP, Avinash Mohanty, for allegedly "manhandling the public who were peacefully protesting against CAA/NRC bill."