Hyderabad: The Central Board of Secondary Education(CBSE) has started live online sports sessions for its students to ensure they stay fit during the lockdown period.
The minister for human resource development, Mr Ramesh Pokhriyal, spoke to Union sports minister Kiren Rijiju seeking collaboration between CBSE and Fit India Movement to provide online sessions to students on sports, fitness, and nutrition.
Fit India has developed five capsules of five minutes each. They can be downloaded from https://we.tl/t-6vhcHEVx0a and can be played in between online sessions which start from 15 April.
The sessions will stream live on YouTube, Facebook, and Instagram every day at 9:30 a.m from 15 April for a month. All the live sessions can either be downloaded or made available as video capsules to be watched later. The sessions will be curated keeping in mind the need to engage students, parents, and teachers.
In an official CBSE circular to all school principals, the board said, "As many schools have initiated online/virtual classes for students, it is equally important to invest in their overall physical, emotional, and mental well-being at home during this period. Keeping this in mind CBSE and Fit India Mission have collaborated to provide live sessions by experts covering a range of topics for the holistic well-being of school-going children, which will include simple actionable tips about basic exercises, nutrition, yoga and meditation, boosting immunity, etc. The overall objective of these sessions will help children stay fit and healthy while pursuing online classes as well as help them to cultivate a sustainable and active lifestyle right from their younger days."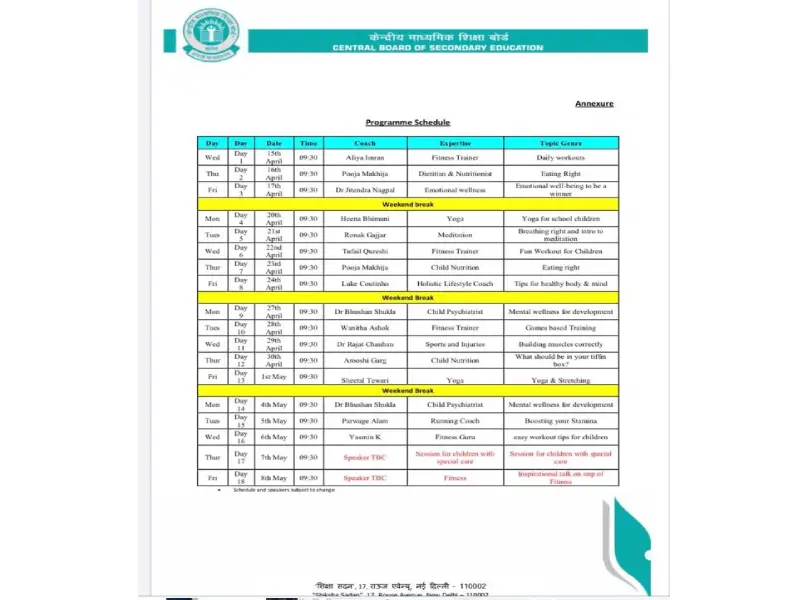 The board has requested all affiliated schools to circulate the information about the initiative to all students, parents, and the teaching fraternity. Schools, in consultation with stakeholders, can also share feedback to improve the quality of the content.
Mrs Anjali Razdan, the CEO of GD Goenka La Petite Montessori School, told NewsMeter, "This is a great initiative from the CBSE to keep children fruitfully occupied. Personally, I have not opened the app yet but it seems to have a wide variety of topics to offer the students. I will definitely recommend it to my school kids, too."
Students and parents can view the live sessions on Facebook at @FitIndiaOff and on Instagram at @fitindiaoff. It will also be live on Fit India's YouTube channel Fit India Movement or simply click on the link https://www.youtube.com/channel/UCQtxCmXhApXDBfV59_JNag?view_as=subscriber.