Hyderabad: A unique genome cluster has been identified by a group of researchers, which is found in 41 per cent of the Covid-19 cases in India. This finding was brought out in a study titled 'A distinct phylogenetic cluster of Indian SARS-CoV-2 isolates' done by a group of researchers from Centre for Cellular and Molecular Biology (CCMB), and CSIR Institute of Genomics and Integrative Biology (CSIR-IGIB), Delhi.
The study, which analyses genome sequencing done on multiple Covid-19 samples collected from different states across the country, found a distinct phylogenetic cluster, named Clade I or A3i of SARS-CoV-2 genomes, that is unique to the region. This genome is found predominantly in the South-Asian region, while is mostly absent in regions such as Europe or the United States, the researchers said.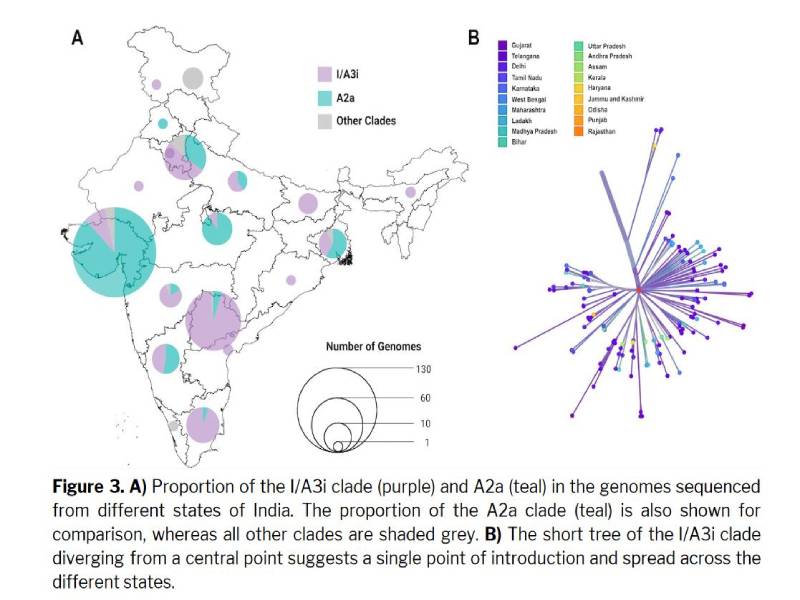 'Telangana, Andhra, Tamil Nadu show high presence of unique genome cluster'
Speaking to NewsMeter, Dr. Rakesh Mishra, director of CCMB, specified that the presence of this unique genome cluster is more dominant in south-Indian states such as Telangana, Andhra Pradesh and Tamil Nadu. "While samples could not be collected from Karnataka or Kerala, the presence in the south is prominent than in other states which were studied, including Maharashtra and Gujarat," the CCMB director said.
The study further suggests that this cluster may have originated from an outbreak in February, 2020, and spread through India. This consists of 41 percent of all SARS-CoV2 genomes from Indian samples, and 3.5 percent of global genomes submitted in public domain.

This cluster seems to have originated from an outbreak in Feb 2020, and spread through India. This comprises of 41% of all SARS-CoV2 genomes from Indian samples, and 3.5% of global genomes submitted into public domain. (2/2)

— CCMB (@ccmb_csir) June 1, 2020
The genome analysis process, which the researchers began doing since last month, was done by whole-genome sequencing of 64 genomes, making a total of 361 genomes from India, followed by phylogenetic clustering, substitution analysis, and dating of the different phylogenetic clusters of viral genomes. Genome sequencing refers to the process of identifying the order of DNA in a particular organism.
"While the study is yet to identify any implication of this unique genome cluster on the severity of Covid-19 disease, more data needs to be analysed to come to a proper conclusion. More samples need to be collected, and more genome sequencing is underway," said Dr. Rakesh Mishra.
The study was carried out by researchers Sofia Banu, Bani Jolly, Payel Mukherjee, Priya Singh, Shagufta Khan, Lamuk Zaveri, Sakshi Shambhavi, Namami Gaur, Rakesh K Mishra, Vinod Scaria, and Divya Tej Sowpati.