Hyderabad: Mohd. Kaleem, a resident of Chandrayangutta, was made to wait for eight hours for a bed at the Osmania General Hospital in Ghansi Bazar on Friday, 10th July.
Mr. Kaleem, a dialysis patient, was given a bed and an attendant only on Friday evening, after several hours of sitting in a wheelchair. "My brother has been suffering, sitting in a wheelchair for eight hours, and the staff has chosen to avoid us," said Basheeruddin Mohammed, Mr. Kaleem's brother, when NewsMeter first spoke to him at 6pm on Friday. Mr. Basheeruddin, along with Mr. Kaleem's family, had been making the rounds of the hospital to check for a bed, but none were available.
The family said they find it extremely difficult to take him elsewhere for treatment. "He has severe respiratory issues," Mr. Basheer told this NewsMeter correspondent. He added that in the meantime, help had come from outside. The vice-president of Telugu Desam Party's Minority Greater Hyderabad division, Mohd. Ahmed, heard their pleas and reached out to help them.
"I attempted to contact health minister Eatala Rajender's office but there was no response," he said while adding that the resident medical officer at Osmania Hospital denied the availability of oxygen cylinders or beds. Mr. Ahmed, then, purchased a private oxygen cylinder for Rs. 3,000 and provided aid to Mr. Kaleem.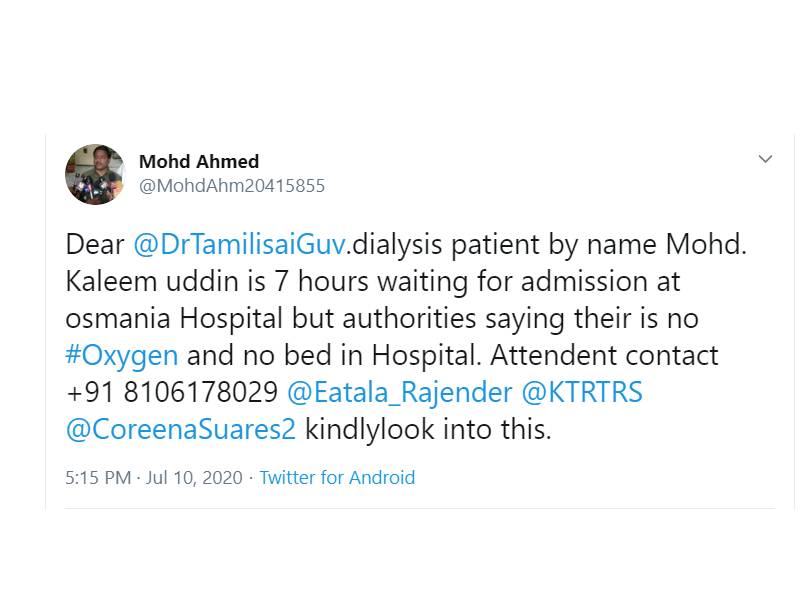 Mr. Basheer added that there were several other patients waiting for beds along with them.
While Mr. Kaleem and his family had been waiting for a response from the government hospital staff, Mr. Ahmed's posts on Twitter attracted attention. Soon after he posted pictures of Mr. Kaleem at the hospital, the Telangana Governor, Tamilsai Sundararajan, responded to the tweet. Mr. Kaleem and his family were contacted by members of the health ministry soon after.
Amid fears of COVID-19, several hospitals - private and government - have been dismissing patients who are not affected by the virus. The burden of the pandemic has put pressure on the country's healthcare system, resulting in mismanagement of many patients.
NewsMeter also spoke to Dr. Parvathee, the Resident Medical Officer at Osmania Hospital who expressed her helplessness because of the increased burden. "We have so many patients to attend, and it gets difficult," she said while also adding that a personal assistant had been assigned to Mr. Kaleem and his family.
Ms. Sundararajan also tweeted later that help had been provided to his family, but that was after Mr. Kaleem and his associates were at the hospital waiting for over 12 hours.