Hyderabad: Priests of Chilkur temple, popularly known as visa god as people seeking US visa worship Lord Balaji, on Tuesday, launched an army named as Jatayu Sena to 'protect girls and women'.
Jatayu Sena is an army of men from all castes, religions, and region who can protect girls and women according to the priests. The priest made a controversial comment regarding mob lynching.
Speaking to Newsmeter temple chief priest CS Rangarajan said that "The reason behind launching of Jatayu Sena is to stop increasing atrocities against girls. Two recent incidents made me think about this initiative which led to the establishment of Jatayu Sena. I have announced Jatayu Sena in Warangal district when I went to visit the family of a nine-month girl who was raped and killed. And another incident took place where a stranger tried to abduct an infant but saved by Nadeem in Moinabad Mandal at Hyderabad outskirts.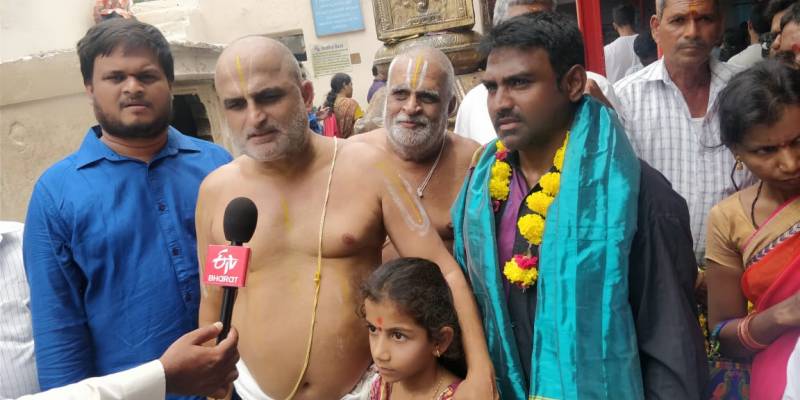 According to Rangarajan, every member of Jatayu Sena is a watchdog and takes punitive action against people who cause harm to girls.
Nadeem is declared as the first Jatayu of Jatayu Sena for his immediate action against the incident and saving the girl.
Expressing serious concern about atrocities against women, CS Rangarajan said that "people who are illegally transporting cows are being mob lynched in many parts of India. In the same way, people who are involved in atrocities against women should be mob lynched."
"Let us take Uttar Pradesh's Unnao rape case. Police failed to file FIR on the spot against the culprit. If this is the situation of police mechanism then we should come forward to protect our women," he added.
He suggested implementing the concept if Jatayu Sena in schools and colleges.
"Lord Balaji as commander-in-chief millions of people should join Jatayu Sena and protect every girl on the Earth. The term Jatayu is taken from a character name in the Hindu Holy Book "Ramayana." Jatayu tried till his last breath to stop Ravana from abducting Sita and save her. However, Jatayu died in the fight with Ravana but left a clue to Lord Rama and his brother Laxmana," he said.
Rangarajan added Chilkur Balaji temple is involved in various other social activities. During annual temple celebrations, Temple authorities offer traditional food items like Pulihora (Tamarind rice), sweets were sent to the Imam of a mosque in Chilkur.