Hyderabad: Recently, there has been misleading information in circulation about Dr Rajat Kumar, IAS on social media. The messages claim that Chief Electoral Officer, Dr Rajat Kumar has been gifted 15.25 acres of land by the Telangana government for helping them win the elections held in April 2019. These lands are claimed to be in Mahabubnagar district of Telangana.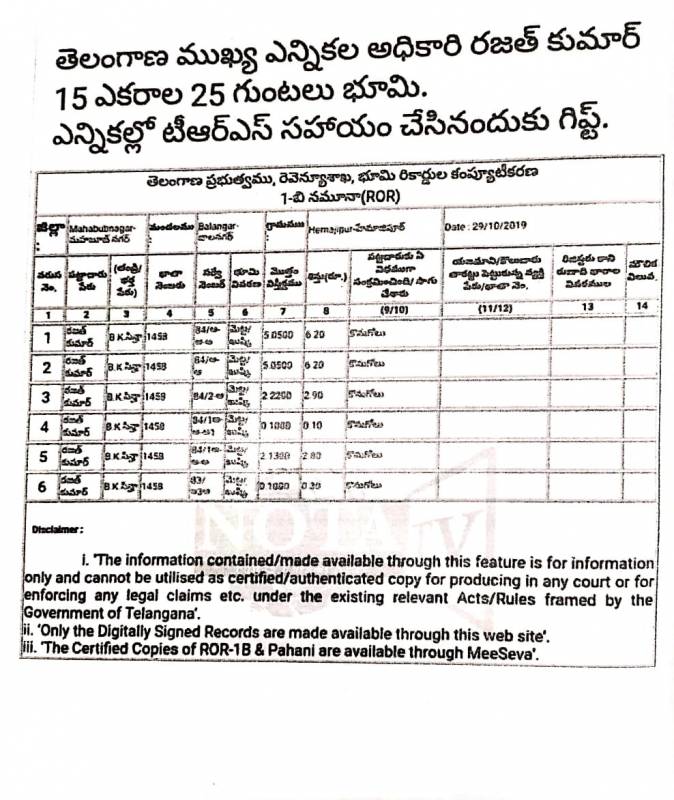 Retorting to this allegations, Dr Rajat Kumar lodged a complaint to the cybercrime department, Telangana. He mentioned in the claim that the alleged lands were acquired and registered by him and his wife, Mrs Achala Kumar in 2013 -2014. This land was purchased in Hemajipur village, Balanagar Mandal, Mahabubnagar district.
In the FIR, he requested the cybercrime department to ensure the trolling stops and to trace out the culprit involved, to be punished under the provisions of law.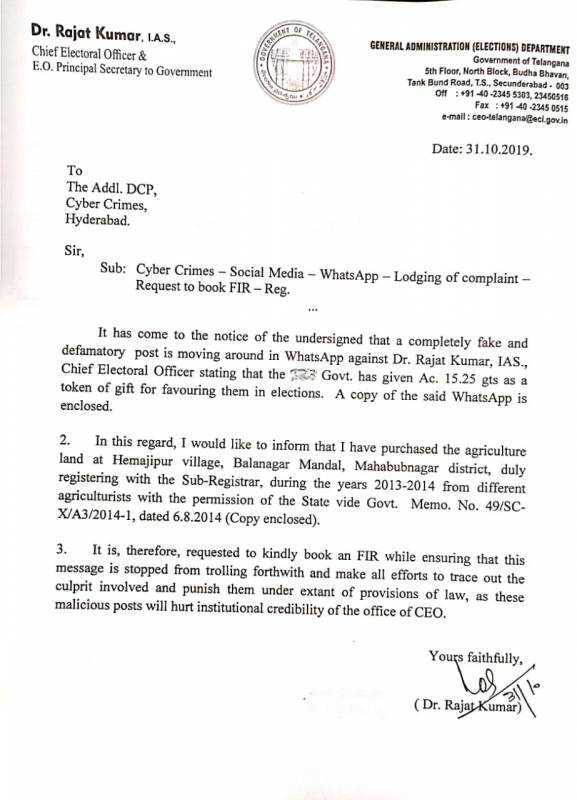 Fact Check:
On further investigation, Newsmeter team has found that Dr Rajat Kumar's claim was accurate and the land had been purchased in 2014. The documents assessing this purchase were found in the general administration department, Government of Andhra Pradesh (then united Andhra Pradesh).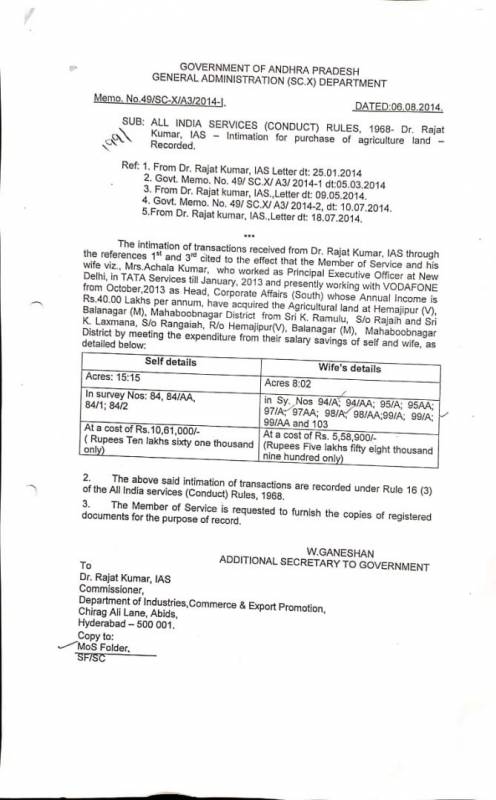 Interestingly, Dr Rajat Kumar was appointed Chief Electoral Officer of Telangana on 19th February 2018. He was working as the Principal Secretary, Forest Department till then.
http://www.elections.in/telangana/office-of-chief-electoral-officer.html
In 2014, when the land was registered, Mr Banwarlal, IAS was the Chief Electoral Officer for Andhra Pradesh. Later in 2018, Dr Rajat Kumar took over the position.
Therefore, the claim of Dr.Rajat Kumar, IAS receiving land as a gift from the Telangana government, for favouring him in the Telangana assembly elections in 2019, is FALSE.
Claim: Chief Electoral Officer of Telangana, Dr Rajat Kumar IAS received 15.25 acres of land as a gift from the Telangana government for favouring them in the 2019 Telangana assembly elections
Claim by: WhatsApp messages
Fact Check: FALSE. There is no truth in this message as the land was purchased by Dr Rajat Kumar and his wife long before he joined Election Commissionerate as Chief Electoral Officer.
Claim Review :
Claims made against Dr Rajat Kumar on receiving assets from Telangana Government
Claimed By :
Social Media Users