Visakhapatnam: The Indian Coast Guard (ICG) personnel rescued eight fishermen from the sea near Rameswararam of Tamil Naidu. The ICG officials said that on September 4, Coast Guard Regional Headquarters (East) received information that eight fishermen were missing from a fishing boat "Marugan Thunai" off Mallipattinam. The boat had ten fishermen who were on passage from Cuddalore to Rameshwaram. The fishermen from Rameshwaram had purchased a new boat from Cuddalore and sailing to Rameshwaram which reportedly capsized off Uchipuli at 1200 hrs on September 3. The crew had managed to construct a makeshift raft using Jerry cans and wooden planks. In the early morning of September 4, the crew sighted a light, and two of them swam across in that direction and were rescued by another fishing boat 15 nautical miles off Mallipattinam.
The sources from Headquarters, Eastern Seaboard intimated that Indian Coast Guard had launched a search and rescue mission for the remaining eight missing crew. ICGS Abheek, Anagh, Rani Durgavati, Interceptor Boats and Hovercraft ex-Mandapam were deployed with Coast Guard Dornier and Naval Helo for a sea-air coordinated search operation.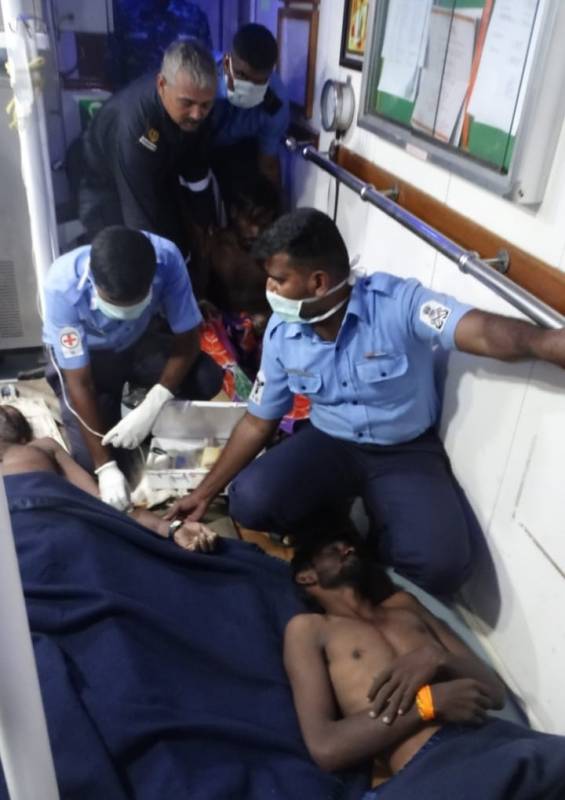 Four crew from the missing fishing boat were rescued by ICGS Abheek on September 5 in coordination with the local fishing boat as they had drifted towards shallow waters. The rescued crew were provided with first aid and medical treatment. On September 7 ICGS Priyadarshini had further recovered two dead bodies off Mallipattinam and handed them over to local authorities in the presence of relatives. The search for the remaining two fishermen is still in progress.
Despite rough seas and strong winds, all-out efforts from Coast Guard and local fishing community has resulted in the saving of four precious lives. However, the incident highlighted the issue of non-carriage of life-saving and communication equipment by fishing boats. Coast Guard has taken up the matter with State fisheries authorities and directly with fishermen during the community interaction.