Hyderabad: For the second time in a row, Coca-Cola has been named the world's number one plastic waste polluter. The brand is followed by Nestle and PepsiCo, reveals an audit, of 484 brands in 51 countries, conducted by Break Free From Plastic. During the audit, the volunteers collected 476,423 pieces of plastic waste, and they spotted the marking of the consumer brands in almost half of what they collected.
In India, over 52% of audited plastic waste was non-recyclable multilayer packaging used by corporates to sell chocolates, biscuits, mouth fresheners, chewing gum, and candies. Notably, these products are specifically designed for Indian customers to be consumed on the go. However, sold in a country that does not have a developed waste management infrastructure or a sufficient number of public waste bins makes the issue more problematic.
Participants catalogued almost 8,000 brands for this year's global audit. Around 11,732 branded Coca Cola plastics were recorded in 37 countries across four continents. It is more than the next three top global polluters — Nestle, PepsiCo and Mondetez International —combined.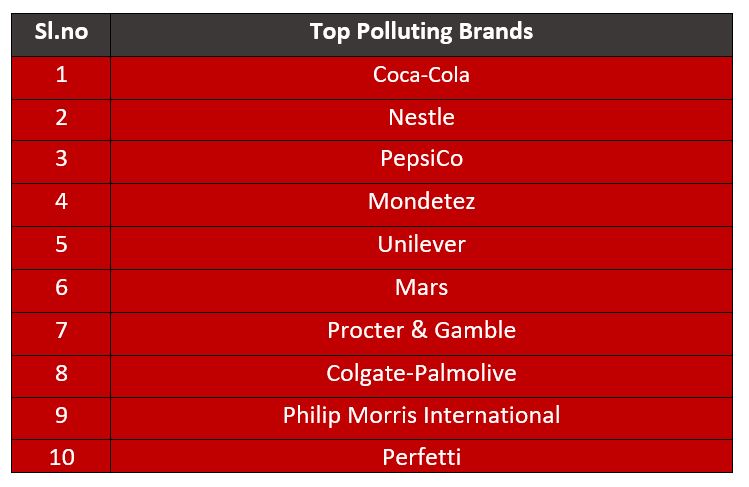 The other global brands included in the list are Mars, Danone, RedBull, McDonald's, and Starbucks. Swiss retailers also figured prominently with Coop, followed by Migros, Denner, and Lidl.
The most common plastic items found were plastic bags, sachets and plastic bottles. Not surprisingly, cigarette butts, beer cans and coffee cups also topped the list.
PET (Polyethylene terephthalate), LDPE (Low-density polyethylene), and bioplastics and textile waste contributed to 93% of the type of plastic picked up during the audit.
A recent report by Greenpeace USA exposed that companies like Nestlé are investing in false solutions like replacing plastic with paper or bioplastics. According to Break Free From Plastic, this is relying more heavily on an already overburdened and broken global recycling system.