Hyderabad : A team of Congress leaders comprising of Telangana Pradesh Congress Committee visited Kunaram village in Kalva Srirampuram mandal of Peddapalli district on Wednesday to meet Sampath who was forced to carry dead body of his 7-year-old daughter after being denied an ambulance by a government hospital in Karimnagar.
Earlier, this week a picture of a distraught father who was forced to carry dead body of his 7-year-old daughter after being denied an ambulance by a government hospital in Karimnagar shook everyone.
According to the Congress leaders, Sampath informed them that his daughter Komalatha to Karimnagar Government Hospital on August 30 for treatment of some liver ailment. However, the doctors initially refused to admit her and advised him to take her to a hospital in Warangal. Since he was not having any means to travel to Warangal, he requested the hospital authorities to give her some treatment.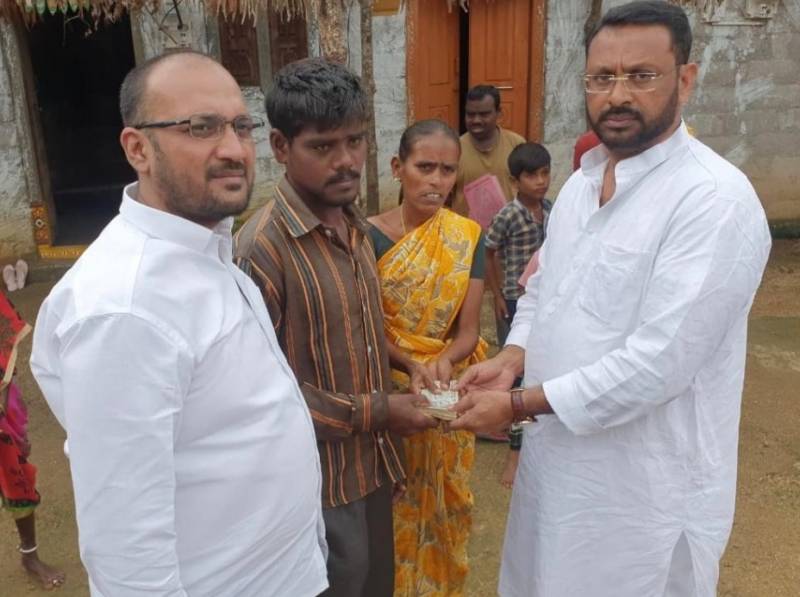 Congress leaders alleged, "He was told that there was no bed available in the hospital and therefore, the ailing girl was made to lie on the floor. She was left almost unattended for two days till she died. Even after her death, the poor family was mistreated and it was denied an ambulance or other transportation to carry the body to the home Kunaram village, about 40 kms away".
Later, the Congress leaders also visited the government hospital and met Medical Superintendent Dr. D. Ajay Kumar to enquire about the incident. Dr. Ajay Kumar told that the girl was suffering from a kidney-related ailment and admitted that Sampath was asked to take the girl to Warangal Hospital for treatment. But he had no answer when asked whether his hospital does not have nephrologists to treat the girl. Although he denied of medical negligence, he had no reply when asked to explain the treatment given to the girl.
At the request of the Congress leaders, the Medical Superintendent issued a circular stating, "It is hereby informed to all the staff of the hospital, that there is a facility of providing mortuary van to every death which occurs in the hospital. Kindly inform the needy persons and create awareness amongst patients about the facility."
Telangana Pradesh Congress Committee (TPCC) Official Spokesperson Syed Nizamuddin said that the girl died due to negligence by Karimnagar Government Hospital and demanded stern action against all those responsible for it. He also demanded Rs 10 lakh ex-gratia to the family.
The Congress leaders demanded that the Chief Minister immediately order a probe into the incident and take exemplary action against those responsible so as to prevent recurrence of such incidents in future.