Hyderabad: After four days of continuous downpour in Warangal, the Disaster Response Force of GHMC deployed teams, consisting of 40 personnel, to take up relief measures and rehabilitate the flood victims.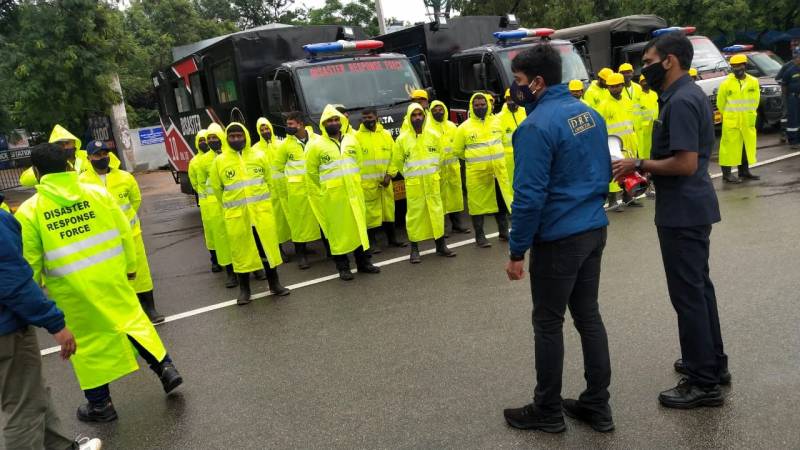 The DRF team is fully equipped, along with a boat, and will be helping the public in every possible way. The team will be conducting the rescue operations for the next 24 hours and depending on the situation, the operation will be extended for another  24 hours, said Viswajit Kampati, director of Enforcement Vigilance & Disaster Management, Telangana.
Mr Kampati requested the DRF personnel to take up all measures to protect the flood victims and at the same time, ensure their safety too as they will not be able to protect others if they do not take precautions.
Warangal has been receiving excessive rainfall during the last three days. On August 16, a rainfall of 99.2 mm was recorded in Warangal Rural and 93.7 mm in Warangal Urban, which is 60 per cent more than the normal rainfall, as of today.
DRF teams consisting of 40 personnel have been deployed to assist the Warangal authorities in rescue and relief measures in view of the heavy rains and flooding. Fully equipped teams (along with a boat) will be assisting the public in every way possible. @KTRTRS @arvindkumar_ias pic.twitter.com/B9A4ri3JOs

— Director EV&DM, GHMC (@Director_EVDM) August 16, 2020
Heavy rains disrupted normal life in Warangal district, Telangana. The constant rain in the last four days led to flood-like situation in several parts of the district.