Hyderabad: Over 220 contract nursing staff of Gandhi Hospital on Saturday boycotted their duties and staged a protest for the second day demanding regularization of their jobs and hike in salary. The nursing staff demanded a hike in their salary, Rs 15,000 after deductions.
The nursing staff while speaking to NewsMeter said, "The newly-appointed nursing staff are taking Rs 25,000 per month. When we questioned about it, the government says they were recruited as part of a different Government Order. We have been working here since 2007 and are getting a meagre salary of Rs 15,000. We don't even know if we will have our jobs tomorrow."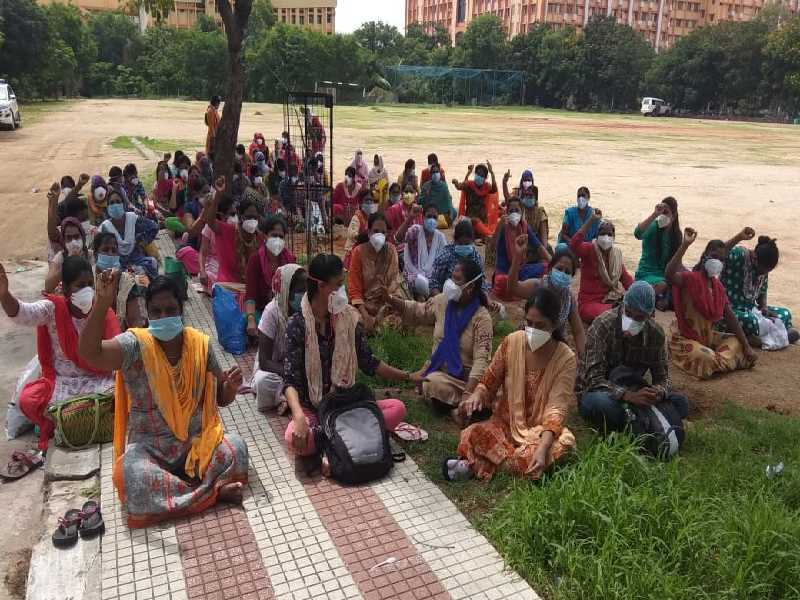 "We have been working at Gandhi Hospital as outsourcing nursing staff for the last 14 years. Initially, we drew a very less salary. It was only in the last 4-5 years, we have been taking Rs 15,000 per month, which is very less. We demand the state government to issue a new GO to increase our salaries and regularize the contract staff. How can we survive and feed our families with such less salary during the pandemic?" asked Kanka Durga, a nurse, who was staging the protest.
#JUSTIN : Nurses (on contract) serving at Gandhi Hospital in #Hyderabad, boycott duties demanding regularisation of their jobs and salary hike. @Eatala_Rajender @TelanganaHealth pic.twitter.com/JDP2T88HdM
— NewsMeter (@NewsMeter_In) July 11, 2020
Earlier this year, in April, the nursing staff boycotted duties for a day demanding regularization of their jobs. They also approached the health officials on the same issue but there has been no response so far.  Three of the working nursing staff tested positive for Covid-19 and who will take care of them and their families, they questioned.
Speaking to NewsMeter, Indira, another nurse of Gandhi Hospital, said: "We are working amidst the pandemic, risking our lives. The families of Covid-19 patients are not willing to touch their kin but we are providing the treatment. For this sacrifice, we are getting only Rs 15,000 a month, upon putting up 14 years of service. Each of the newly-inducted nurses is getting Rs 25,000. This is not fair," she added.