Hyderabad: Death toll due to coronavirus touched six in India as a 38 year old man died in Patna. According to reports he retuned from Qatar and died at All India Institute of Medical Science (AIIMS) on 21 March.
A 63-year-old man from Mumbai becomes fifth casualty of coronavirus in India. Apart from being tested positive for the virus, the patient was also suffering from diabetes, high blood pressure and ischemic heart disease, said the authorities. He died at 11:03 pm on 21 March, as per the statement recorded by hospital staff.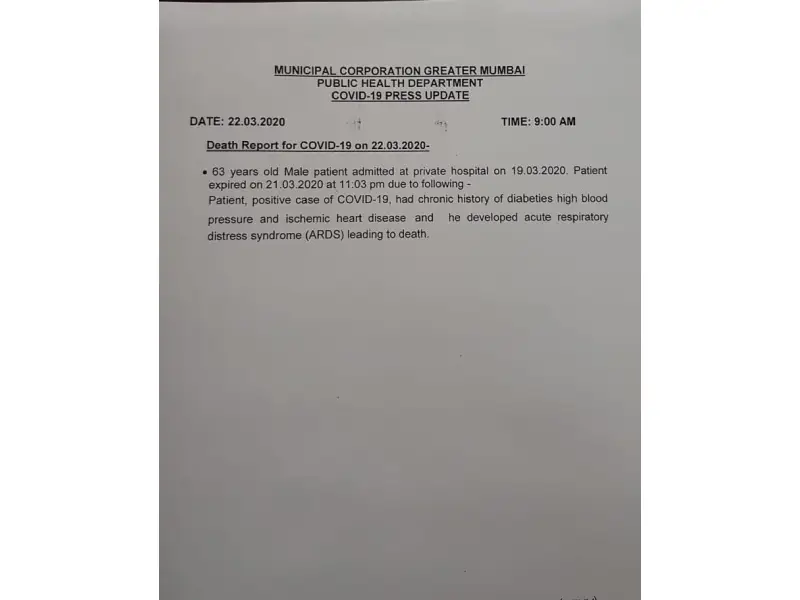 Due to coronavirus infection, he also developed an acute respiratory disease syndrome which lead to his death, said the doctors.
The patient was reportedly admitted in a private hospital.
This is the second death in Maharashtra due to COVID-19. On March 18, another 63-year-old man took his last breath, while he was under treatment at Kasturbha Gandhi Hospital in Mumbai.
Maharashtra, as of March 22, has reported a total number of 74 positive cases, being the highest in India.
The first case of Coronavirus death in India occurred in Kalburgi, Karnataka. The second patient was a 68- year-old woman who was from the national capital, while the fourth patient was a 74-year-old man from Punjab who died on March 19.
As of today, total number of cases in India has touched 341 out of which 280 are Indian and rest are foreigners. In order to control the out-break Prime Minister Narendra Modi has asked India to follow Janata Curfew from 7 am to 9 pm today.