Kochi: In a worrisome development, five new coronavirus positive cases have been reported in Kerala. Three of them reportedly have a travel history from Italy from where the virus is suspected to have come.
Health Minister K. K Shailaja said that the family had managed to evade screening at the airport. The three people, who returned from Italy, had gone to visit their relatives, after which they began to show COVID-19 symptoms. Currently, the five have been kept in isolation wards.
"We are tracing their contact history. They are under medical treatment. People coming from other countries should show responsibility and get a medical check-up done soon after reaching India," she said.
All the five people are natives of the southern district of Pathanamthitta.
With this, the total number of corona-positive cases in the country has gone up to 39.
Meanwhile, the Kerala State Health and Family Welfare department is currently under the process of contact tracing. In a special bulletin that was released on Sunday, the department said, "all persons who have travelled in flight numbers QR126 from Venice to Doha and February 28, and QR 514 from Doha to Cochin on February 29 should inform the control rooms in their respective districts. The contact tracing of the positive cases is being done and is expected to complete by today."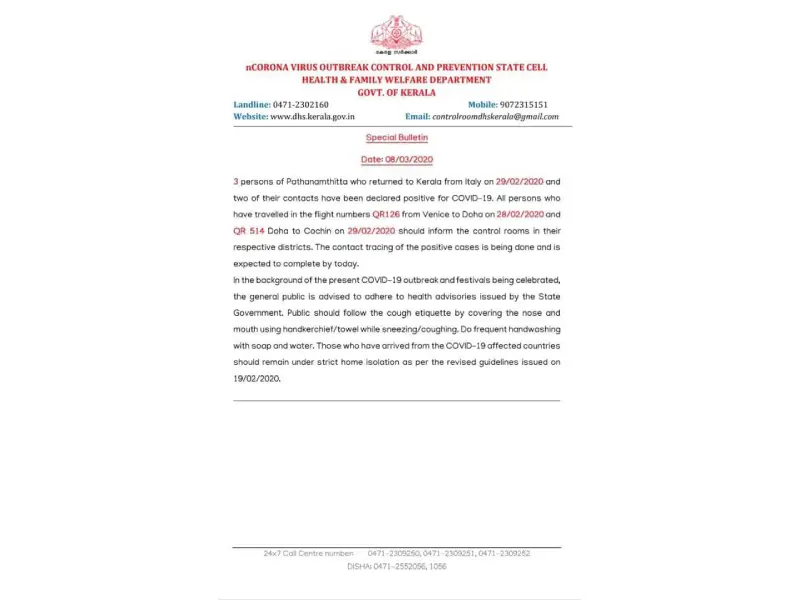 While the country's first three cases were reported from Kerala, all three students have since recovered. Around 962 hospitals/health facilities have been identified by States for treatment of COVID-19 cases.