Highlights
Total no of registered cases in the country: 83

No of Indians out of 83: 66

No of foreigners: 17

No of people dead: 2

No of people recovered: 10
Hyderabad: Telangana Chief Minister K Chandrashekar Rao called for a complete shut down of educational institutions (both private and government from pre-primary to Universities) in the state. Besides these, coaching centers to be shut up to March 31st, beginning from Saturday.
However Government residential schools shall remain open due to the ongoing examination, the CM said.
Appealing to the citizens to be panic free of the current situations, the CM announced the cancellation of permissions to all cinema halls, amusement parks, swimming pools, gymnasiums, Zoo parks, museums shall be closed till March 21st.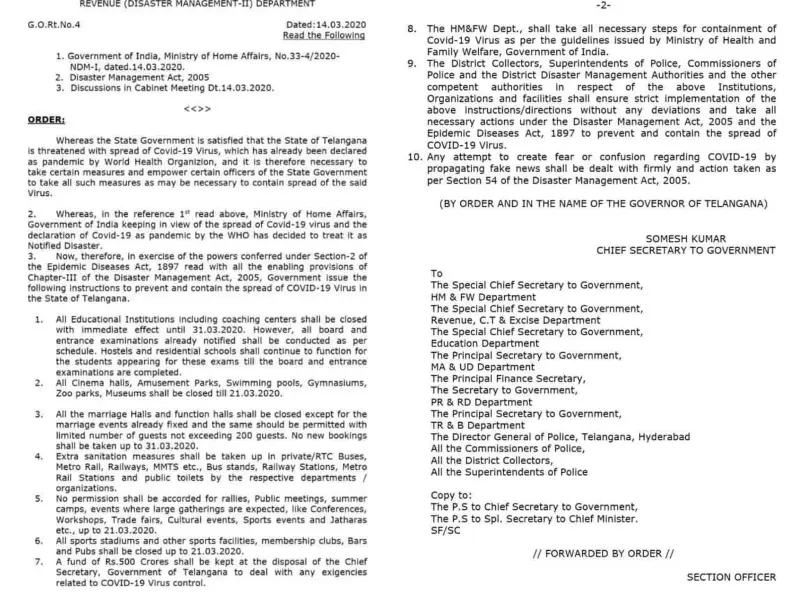 No permission will be accorded for rallies, public meetings, summer workshops, events with large gatherings like conferences, workshops, trade fairs, cultural events, sports events and jatharas up to March 21st.
All sports stadiums and other sports facilities, membership clubs, bars and pubs shall be closed up to March 21st.
While religious places like temples, mosques, and churches will be asked to take precautionary measures.
However, supermarkets, grocery shops, and city malls have been exempted from the closure. While state-run transportation Hyderabad Metro and TS -RTC shall operate as usual.
For weddings that have been scheduled before March 31st, the state-head has appealed to the parties to restrict the number of the congregation (cap on invites) to 200 only ( 100 from the boys ends and 100 from girls). However, weddings halls have been asked not to accept new bookings up to March 31st.
Speaking following the cabinet meeting held on Saturday, the Chief Minister said, " Citizens need not panic, Coronavirus is not an Indian born disease, it has originated from China. The government has put in place 120 beds for isolation, 321 intensive care beds, and 240 ventilators. An amount of Rs 500 Crore has been allocated for precautionary measures. The fund has been provided to the Chief Secretary who can take a call based on the situation'.
The state head has warned of strict action in case violation of orders. KCR has announced to cancel the license of institutions, commercial establishments if orders are disobeyed.