Hyderabad: In order to ensure the safety of their delivery partners amid the rising number of Coronavirus cases in the country, online food delivery platforms like Zomato and Swiggy have introduced 'contactless delivery'. The precautionary measure to address COVID-19 is a new update in the food delivery apps and is applicable for orders paid through online payments.
How the feature works
A customer can opt for contactless delivery on their cart or on order tracking screen. The delivery person will keep the package outside the customer's doorstep and leave. They will also take a photo of where the food parcel has been placed and send it to the customer. The delivery companies have also recommended customers to keep a bag or stool outside the door if there is no clean space already.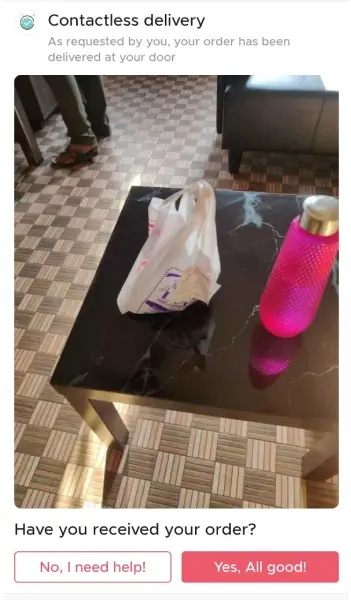 Jeevan Kumar, who works with one of the restaurant aggregators, told NewsMeter, "We had a video tutorial on how to use the new feature. Today is the first day since the launch of the new feature and we have received several contactless orders."
However, neither Zomato nor Swiggy has provided masks or sanitisers to their delivery partners so far. Unless these are provided to the delivery person one cannot guarantee the safety of customers.
Deepinder Goyal , the founder of Zomato, said, "We have asked our delivery partners to self-quarantine or reach out to a doctor immediately if they have any symptoms. We're also informing our delivery fleet that they don't need to force themselves to work for financial reasons if they get infected with COVID-19. We'll support our delivery partners with financial assistance and medical insurance in case they are diagnosed with the virus."
Here is what we are doing as precautionary measures to address COVID-19.

Contactless food delivery is already available on the @zomato app through our 'delivery instructions' feature. An app update over the weekend will make this explicitly clear to everyone. pic.twitter.com/HJ012g5zfH

— Deepinder Goyal (@deepigoyal) March 13, 2020
Meanwhile, the companies have urged customers to wash their hands properly before eating any food ordered from their apps. Not just Zomato and Swiggy, fast food giants Domino's Pizza and McDonald's have also introduced 'zero contact delivery' across all their restaurants in India.
Domino's India tweeted, "Domino's introduces Zero Contact Delivery, in this our Safe Delivery Experts will deliver hot and fresh Domino's Pizza without coming in contact with you. In addition, all our Safe Delivery Experts are company employees, and their temperature is checked and recorded every day."
Domino's introduces Zero Contact Delivery, in this our Safe Delivery Experts will deliver hot and fresh Domino's Pizza without coming in contact with you.

In addition, all our Safe Delivery Experts are company employees, and their temperature is checked and recorded every day. pic.twitter.com/rs8YGKitcU

— Domino's Pizza India (@dominos_india) March 18, 2020