Hyderabad: Andhra Pradesh reported two more COVID 19 positive cases on Monday taking the overall number to 23.
The two new cases were reported from Kakinada and Rajahmundry. The patient number 22 is a 49-year-old male from Kakinada. Patient number 23 is a 72-year-old male from Rajahmundry.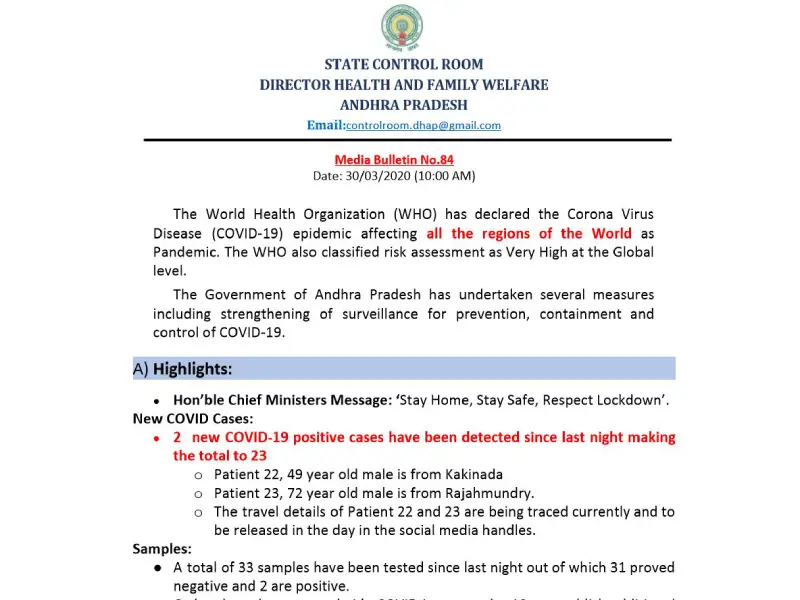 A total of 33 samples were tested since yesterday, of which 2 tested positive and 31 came back negative.
Out of the 23 positive cases, Vizag has reported the highest of six. One case each from Nellore and Visakhapatnam has recovered post treatment.
A total of 29672 foreign returnees have been under surveillance. Of whom, 29,494 are under home isolation. Around 178 are admitted in hospitals. Of the total foreign returnees, 4232 are from West Godavari
On the other side, the third positive case in the state has tested negative on two occasions and is responding well to the treatment.
The 65-year-old man with a travel history to Medina was admitted to TBCD Hospital in Visakhapatnam on March 17. A team of doctors under the supervision of Dr Vijay Kumar, Superintendent, Dr Ayyappa, Nodal officer, Dr Vijay Babu, staff nurses, paramedical staff have been attending to the patient. The patient's condition is stable. He was tested negative twice.
Four laboratories have been designated for testing in the state. They include SVIMS in Tirupathi, Siddhartha Medical College, Vijayawada, Rangaraya Medical College, Kakinada and Ananthapuram Medical College in Ananthapuram district.