Hyderabad: Andhra Pradesh has conducted the second-highest number of COVID-19 tests in the country, according to a report by the Indian Council of Medical Research (ICMR). Rajasthan topped the list by conducting 47,192 tests so far.
Andhra Pradesh has tested 26,958 patients till 19 April and conducts 539 tests per minute. Chief Minister Y.S Jagan Mohan Reddy, during a review meeting on Sunday, said doctors in the state broke records by conducting 5,508 COVID-19 tests per day. He said the number will increase to 17,500 tests per day.
Andhra has received around one lakh testing kits from South Korea but Jagan said the doctors achieved this target by Friday even without using the rapid-testing kits. Samples will be collected from Kurnool, Guntur, Krishna, and Nellore districts where the virus is widespread. The Chief Minister directed officials to focus on the red zones.
Andhra has seven testing labs.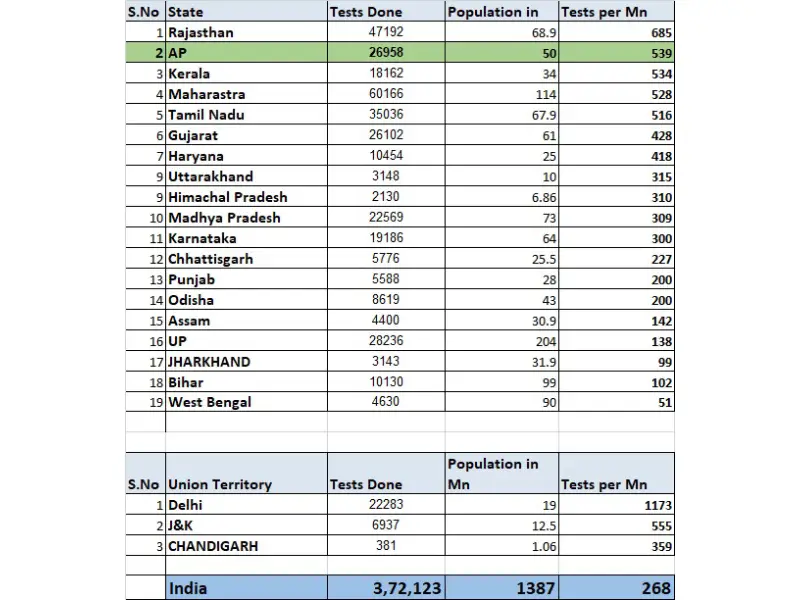 According to reports, the state was testing a few hundred samples every day which was later increased to 1,000 samples then 4,000 and finally 5,000 per day. With the rapid-testing kits, the state plans to increase the number by three times. As of 19 April, Andhra has recorded 647 positive cases, 17 deaths, and 65 recoveries.
According to the ICMR data, as of 19 April, India has conducted 3,72,123 sample tests and 3,54,969 individual tests. The Telangana government records, meanwhile, show that the state has conducted around 14,962 tests. Kerala, which has successfully reduced the number of positive cases in the state, ranked third with around 18,162 samples tested so far.