Amaravati: The Andhra Pradesh government, on 23 April, said the Indian Council of Medical Research (ICMR) has approved the rapid-testing kits that arrived from South Korea and the COVID-19 tests will continue as usual in the state.
"So far, 48,034 tests have been conducted in Andhra, of which 6,520 were conducted on Wednesday. Andhra Pradesh tops the list in the country with 961 COVID-19 tests per million population. Chief Minister Y.S Jagan Mohan Reddy has instructed to scale up the number of tests gradually," said an official in a statement on Thursday.
Of the 14,423 tests conducted using the rapid-testing kits, 11,543 were done in red zones and 30 positive cases were identified. The samples were sent to PCR tests for confirmation, said an official.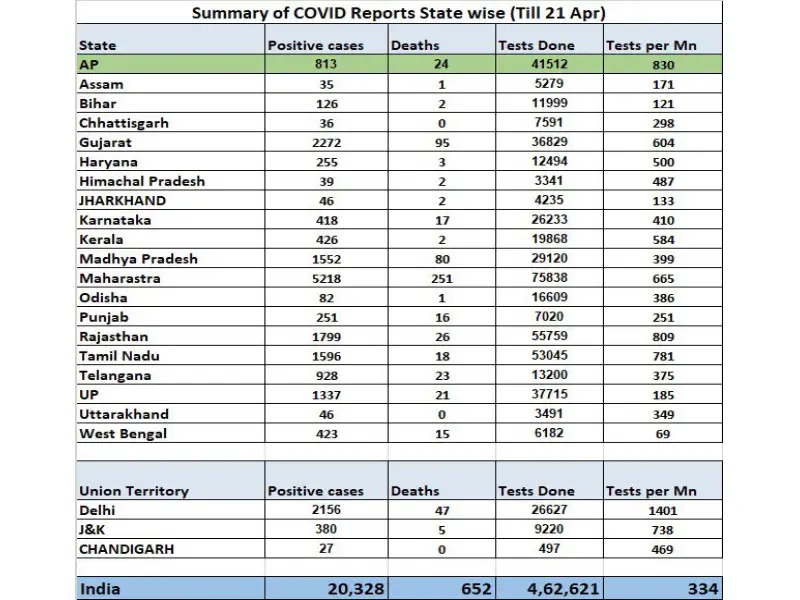 Instructing the officials on tackling the situation, the Chief Minister asked them to prioritise Thallasemia, cancer, and dialysis patients. The 104 services should be on alert and pregnancy cases should be attended to without delay, the CM said.
Regarding the agricultural sector, he instructed officials to ensure that 1902 toll-free services are fully functional. "Details on crop prices and other crop-related issues should be collected from agriculture assistants in villages where farmers can report their issues. Officials are ordered to supply fruits for Rs. 100," Jagan said.
Besides these, the Chief Minister has ordered officials to identify land for the construction of proposed new medical colleges in the state.
Meanwhile, three more COVID-19 deaths were reported in Andhra Pradesh as the toll reached 27 on Thursday. Hotbeds continued to register new positive cases. The number of infected rose to 893 with the addition of 80 new cases in the past 24 hours.
Two deaths were reported in Kurnool and one in Krishna. So far, Guntur has reported eight deaths, the highest in the state, followed by Kurnool and Krishna districts with seven deaths each. Kurnool, which has emerged as a hotbed of COVID-19, has reported 234 cases, with 31 new COVID-19 new cases recorded on Thursday. Guntur has reported 195 positive cases with the addition of 18 new cases on Thursday.