Hyderabad: The COVID-19 crisis has begun to hit media houses. In a new set of lay-offs announced, the Times of India has asked its Sunday magazine team based in New Delhi to leave. In a Facebook post, Nona Walia, one of the Senior Assistant Editors at Times of India had posted that she was asked to leave the organisation after 24 years of service. She said, "The entire team of Sunday magazine of Times of India asked to leave. Got a call from my boss Poonam Singh. Sached after 24 years from a company I served with love for more than two decades."
Meanwhile, sources have also reported that Hindustan Times Marathi is soon to close its operations after April 30, while all employees have been asked to leave. However, Hindustan Times has not confirmed this yet.
In addition to this, the English digital team of News Nation, a Hindi news channel has been terminated. The team comprised of fifteen journalists. In a letter addressed to the employee, the company said that "employment with the organisation is being terminated with immediate effect, ie, 10th April 2020 in term of clause 14 of your appointment letter."
Regarding this, Manish Tewari, Member of Parliament from Punjab had written a letter to Prakash Javdekar, the Minister for Information and Broadcasting. In his letter dated April 13, the MP said that an advisory needs to be issued to all print, and electronic media platforms to not retrench their employees and to pay their salaries on time. "The ongoing coronavirus pandemic and resulting lockdown cannot be an excuse for firing people considering that it has been only 3 weeks since the lockdown began," he said.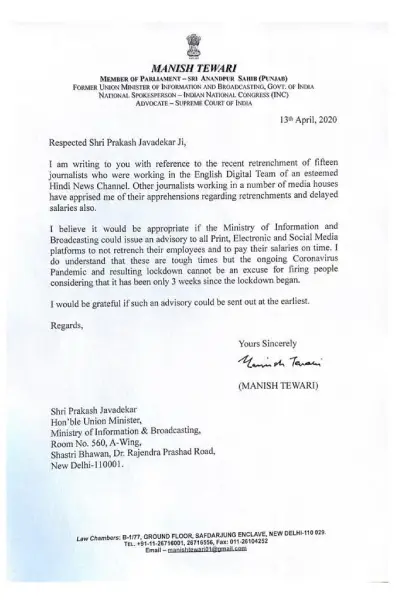 The COVID-19 crisis has taken a toll on digital media as well. Reportedly, thirty employees from The Quint have been asked to go on Leave Without Pay (LWP).