Hyderabad: The majority of people who died of COVID in Telangana were having underlying medical conditions including hypertension and diabetes
According to Telangana's COVID-19 bulletin, of the 192 deaths, 71 people were suffering from hypertension and diabetes. They amount to 36 percent of the total number of deaths in the state.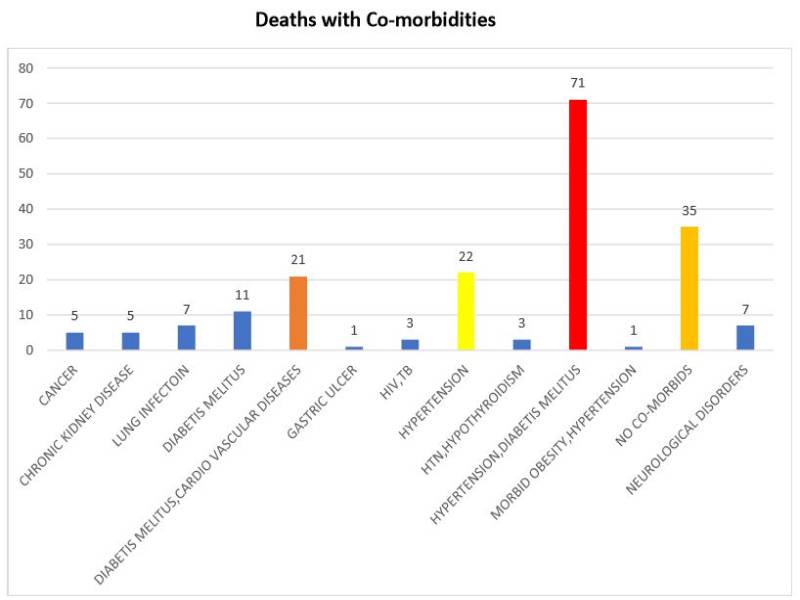 Around 22 people (11 percent) who died of COVID-19 were suffering from hypertension.
Diabetes, combined with cardiovascular disease was another co-morbidity that proved to be fatal, along with COVID-19.
Twenty one (ten percent) people who died of COVID-19 deaths were having diabetes along with cardiovascular diseases.
According to the International Diabetes Federation, the complications in blood glucose levels of a diabetic patient with COVID-19 can make the disease hard to treat.
"Firstly, the immune system is compromised making it harder to fight the virus and likely leading to a longer recovery period. Secondly, the virus may thrive in an environment of elevated blood glucose," the IDF said, citing the reasons for diabetes creating complications in COVID-19 patients.
Further, patients with COVID-19 and high blood pressure have been reported to have an increased risk of adverse outcomes, a study said.
"Patients with hypertension had a two-fold increase in the relative risk of mortality as compared with patients without hypertension," said the study published in European Heart Journal.
Dr. Raghu Kishore, a cardiologist at Krishna Institute of Medical Sciences (KIMS), said the end-organ damage is more when a person has a combination of hypertension and diabetes along with COVID-19.
"End organ damage refers to the damage to major organs fed by the circulatory system (heart, kidneys, brain, eyes). These can sustain damage due to uncontrolled hypertension. Hypertension, for one, has the potential to injure blood vessels and cause end-organ damage. So, it is a combination of co-morbidities that makes it fatal for a patient," Dr. Raghu said.
On the other hand, 18 percent of patients who succumbed to the disease had no co-morbidities. According to Telangana's health bulletin, 35 deceased had no underlying diseases.