Hyderabad: As the Nation tackles the Coronavirus outbreak, the state of Telangana hasn't seen a drop in the number of Positive cases with 49 new cases being reported on April 8th . With this the number o active cases surge to 397.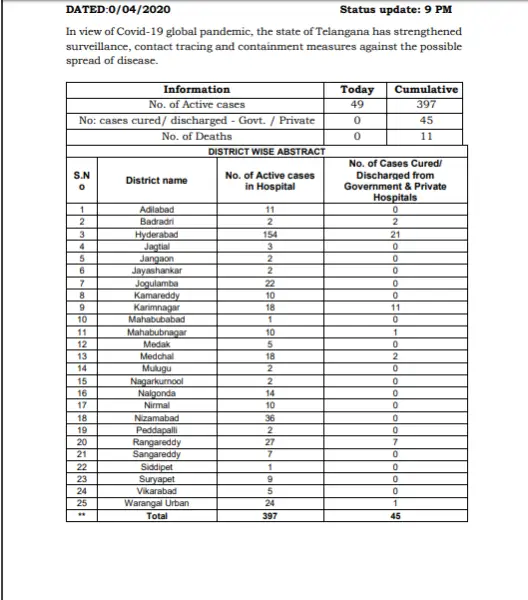 Health Minister Eatala Rajender , while addressing the press on Wednesday said, " The number of cases recorded in Telangana are 453 ( minus the cured patients ). The active cases are 397 and none of them are on ventilators, while results of 535 samples are awaited . Around 22 private medical colleges in the state have been converted into isolation wards, with this 15,040 beds have been allocated for COVID-19 patients. Gandhi Hospital to be the single point of COVID-19 treatment hospital'.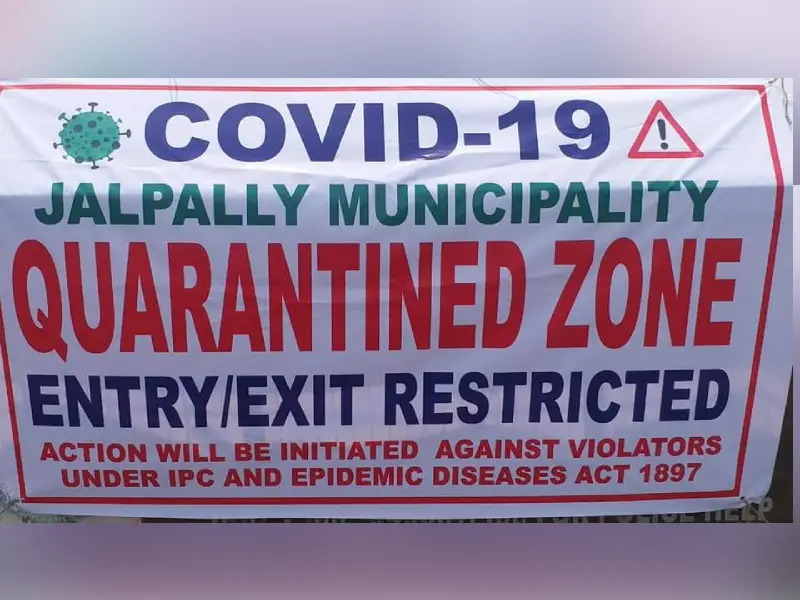 According to the minister, of the 3158 Delhi returnees and their contacts, 300 have been tested COVID positive. The patients will be sent home after they test negative. They will be placed under compulsory home quarantine, the minister said.
The health minister has clarified that there is no community transfer of coronavirus in the state. He also mentioned that the government has placed an order for 5 lakh PPE kits and masks.
Meanwhile, barring the cases reported on April 8th , Hyderabad still stands at the top with a whopping 154 plus cases. Nizamabad stands second in the list with 36 cases. Warangal Urban is third on the list with 24 cases. The lowest number of cases have been reported with Siddipet, Mahabubabad & Jayashankar with one case each reported from the districts.
The nation-wide Numbers too have gone on to witness a huge rise in the past few days, crossing 4,000 cases now. The total number of positive cases until now in the country are 4,312. 352 cases out of them have been cured/discharged. The nation has reported 124 deaths until April 7.
Telangana Chief Minister K Chandrashekar Rao in a press meeting said that he is all in for the extension of lockdown and it is for the welfare of the nation. He said that the economy can be revived but the lives of people can't be brought back.
28-day-old baby tests positive for COVID-19, youngest patient in Telangana
A 28-day-old baby from Mahabubnagar has been tested positive for the novel coronavirus, making it the youngest COVID-19 patient in the state of Telangana.
According to the health officials, the infant's grandfather had attended the Tableeghi Jamaat meeting held in Delhi, near the Nizamuddin area from March 13-15. The grandfather had returned to the Mahbubanar on March 19, sources said. It is to note that the man travelled via Andhra Pradesh Sampark Kranti Express from Hazrat Nizamuddin to Kacheguda. From Kacheguda, he had left for Mahabubnagar.