Hyderabad: According to the latest medical bulletin released by the government of Telangana, the tally of positive cases jumped by 1,986 on Thursday, 30th July.
This the highest number of cases ever seen in TS. As of the date, the state has a total of  62,703 COVID-19 positive cases. However, only 16,796 are active.
Over 800 patients recovered from the virus on Thursday, taking the tally of recoveries to  45,388. Telangana now has a recovery rate of 72.3%.
However, the casualties have 519 as 14 more patients succumbed to COVID-19 on the day. The fatality rate in the state now stands at 0.82%, which is lower than the national average of 2.20%.
The state also saw a massive increase in COVID-19 tests, as total 21,380 samples were tested on 30th July. The total number of tests done in the state is  4,37,582.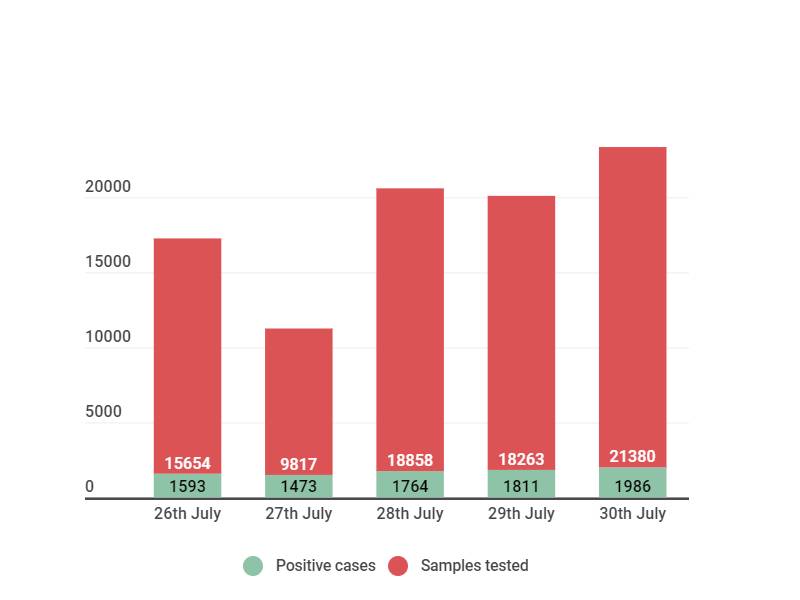 Source: Government of Telangana
(Note that bulletins of these dates were released one day later)
Vacancy of beds:
The state currently has 14,799 vacant beds for COVID patients.
There are 11,179 isolation beds, 2,268 oxygen beds, and 1,352 ICU beds vacant at state hospitals.