Vijayawada, April 25: The Srikakulam district, which has not registered a single Covid-19 positive for over one month, has reported 3 Covid-19 cases on Saturday. With the three cases in Srikakulam, the COVID-19 has spread 12 out of 13 districts in the State. The Vizianagaram district is the only district in the State continued to maintain a clean slate with zero cases till date.
The number of COVID-19 cases in Andhra Pradesh crossed the 1,000-mark on Saturday to end with 1,016 cases — the eighth State to cross the 1,000 mark in the country. Two more COVID-19 deaths were reported in Andhra Pradesh and the death toll increased to 31 on Saturday. On Saturday, 61 new cases were reported — majority of the cases were reported from Krishna (25 cases) and Kurnool (14 cases).
One death was reported from Kurnool district and another death was reported from Krishna district of Andhra Pradesh. Kurnool has reported nine deaths, highest in the State so far, followed by Guntur and Krishna districts with eight deaths each.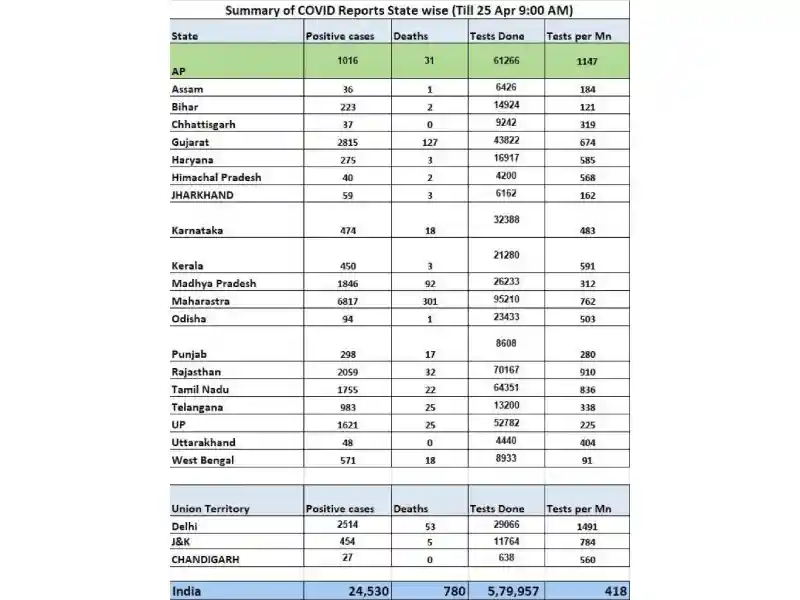 Meanwhile, 26 more patients recovered from the disease in the State and have been discharged in the last 24 hours. This takes the total number of cured to 171.
Andhra Pradesh has a total of 814 active Covid-19 cases undergoing treatment in various hospitals. Official sources said about 10 of these patients are in ICU and some of them are in critical condition.
A total of 6,928 samples were tested from 9 am on Friday to 9 am on Saturday, of which 61 turned positive and the remaining proved negative.