Hyderabad: Since the outbreak of Covid-19 in Telangana, several stories are coming out where patients are forced to move from pillar to post for hospital admission. In a similar case, a 21-year-old new mother from Talab Katta area of Hyderabad succumbed to pneumonia on June 14 night after being denied 'neglected' by hospitals in Hyderabad for treatment of the infection.
The young woman, Neha Begum, had given birth to a baby boy 40 days ago. She underwent a C-section at a private hopsital in Hyderabad. However, a few days later, she stared experiencing breathlessness and her family members shifted her to Osmania Medical College as it was the nearest facility for them.
"She was first taken to emergency of Osmania. Later, they shifted her to Osmania General hospital for pneumonia. For 10 days, she battled for life at the hospital. She was tested for Covid twice and the result came out negative. No doctor or nurse attended to her and her condition was getting worse by the day," said Neha's sister, Farheen Sami to NewsMeter.
Seeing Neha's condition, the family approached several hospitals in Hyderabad. However, they allegedly denied her admission.
"I don't know how to make someone understand the condition of Osmania Hospital. I was Neha's bystander and patients were dying around her. It made her more weak. She kept begging us to move her to another hospital. During her last three days, no doctor visited her. On Sunday night, we lost our sister," Farheen explains.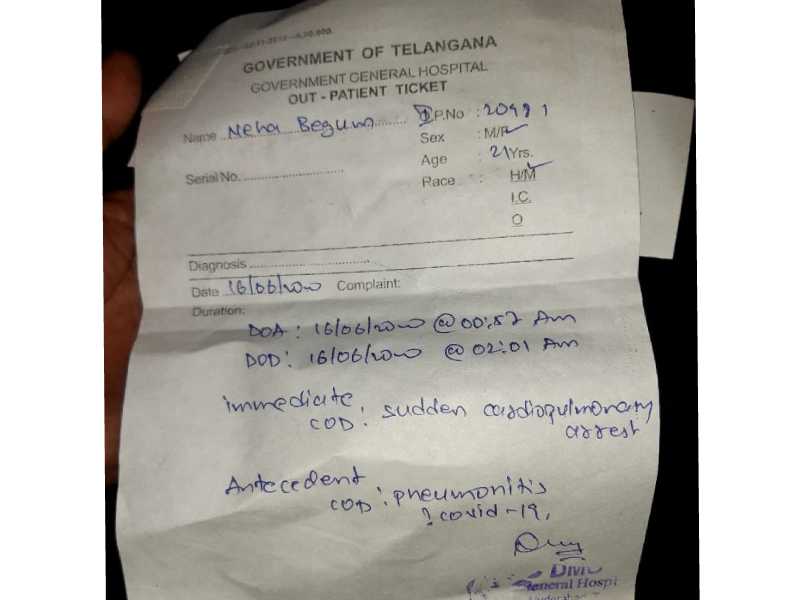 The family says hospitals in Hyderabad kept insisting them to shift the women to Gandhi, the nodal centre for Covid-19 treatment in the state, even after explaining them that she tested negative.
"There is no good hospital left in Hyderabad which we have not approached. We went to NIMS too but they asked us to take her to Gandhi. We tried showing them her negative test result, but in vain. They said my sister was still a Covid suspect. However, after a lot of pleading, NIMS finally agreed to admit her. When we approached the admission department, they denied to take her in even though the MRO had agreed on. We don't know whom to blame for the ordeal we went through. We understand the stress medicos are currently undergoing but how can that be at the cost of my sister's life. I am the only person who is educated in our family. Rest of them do not know even to write their name. We didn't know what to do when hospitals kept rejecting her admission," said Farheen, a school teacher.
NewsMeter is awaiting response from authorities of NIMS and Osmania General Hospitals.