Highlights
Covid positive doctor detained at pvt hospital

Bill charged amounted to 1.47 lakhs

Treated poorly, made to starve for food
Hyderabad: A private hospital at Chaderghat, Thumbay New Life, allegedly charged a female doctor Rs 1.15 lakh for one-day treatment of Covid-19 after she was admitted on July 2, 2020. Reportedly, the hospital also detained the woman when she expressed her inability to pay such a high amount and added another Rs 36,000 to the bill as compensation for the same.
On a call with NewsMeter, Dr. Asra Sultana stated that she had to pay Rs 1,47,000 to come out of the hospital.
A medic at the Sir Ronald Ross Institute of Tropical and Communicable Disease (Fever Hospital), Nallakunta, Dr. Sultana tested positive for Coronavirus on June 22 at the Government Nizamia General Hospital, Charminar. After receiving her results the next day, Dr. Sultana decided to medicate and isolate herself at home. It was on July 2 morning that the doctor experienced respiratory issues and decided to approach a private hospital for nebulisation.
"The nurses there kept pricking me with the same needle and used the same cotton swab twice to stop the blood," Dr. Sultana said, while pointing out that the medical staff hired to treat patients were irresponsible. "I had to beg the nurses to attach a nebuliser since I was experiencing shortness of breath," she said.
Dr. Sultana, already a diabetic patient, said that after she was given a 10 unit insulin injection, she was made to starve for two hours before any food was provided. "I was going into hypoglycemia and they were ready to let me die," she added.
When she was finally ready to leave the hospital on July 3 (by discharge on request), the bill handed over to her amounted to Rs. 1,15,000. She was only able to pay Rs. 40,000, after which the hospital allegedly decided to detain her to extract money.
Also read: Where is the cap? Hyderabad pvt hospital issues 9L bill for Covid-19 patient
[video width="480" height="672" mp4="https://newsmeter.in/wp-content/uploads/2020/07/WhatsApp-Video-2020-07-05-at-1.19.57-PM.mp4"][/video]
(Dr. Sultana speaking about her ordeal)
After being detained, the doctor had also written a complaint to the SHO, Chaderghat, stating that she was being mistreated at the hospital. "The police also refused to help, saying that they can't interfere since it is a private hospital," Dr. Sultana said.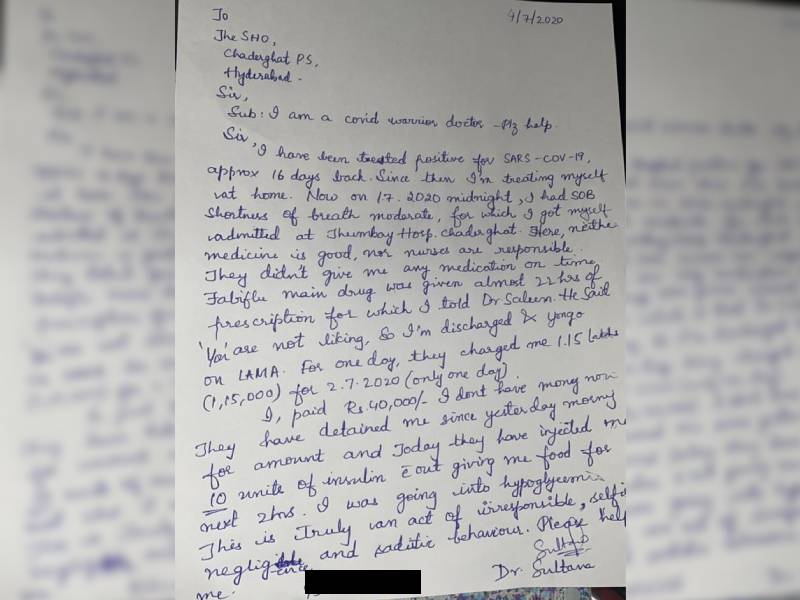 (Letter submitted by Dr. Sultana to Chaderghat Police Station)
"I experienced an ordeal for the four days that I was there."
Dr. Sultana was released from the hospital on July 4 night, after her relatives decided to pool in the money. "The hospital staff claim that they gave me the antiviral drug, but all I was given was Cobadex Forte and two doses of calcium," she added. In a copy of the bill that was provided to NewsMeter, it can be seen that the hospital even charged her Rs 1,000 for a KN95 face mask, and Rs. 900 for examination gloves.
On asking why she decided to head to a private hospital rather than her own for treatment of respiratory distress, Dr. Sultana, who's worked as a government servant since the last 15 years said, "I didn't want to go to Gandhi Hospital."
NewsMeter attempted to contact Thumbay New Life Hospital but there was no response.