Hyderabad: Hyderabad Mayor Bonthu Rammohan tested negative for Covid-19 on August 10. According to a message posted on his official social media account, the mayor received his reports at 7.09 pm from the Nizam's Institute of Medical Sciences, Panjagutta.
However, 59 hours (2.5 days) before receiving a confirmation on his Covid status, the mayor inspected Nedermet X roads, where a bridge was proposed to be constructed.
"Had a visit to Neredmet X Road where a foot over bridge is proposed. As the local residents have few concerns with regard to its alignment, instructed EE Anil Raj to change the alignment," he wrote in a tweet published at 8.12 am on August 8.
In the video, the mayor can be seen inspecting the bridge along with 4 other officials.
Dr Rammohan also stepped out of his house on August 9 to inspect a graveyard located behind Hyderabad Public School, Begumpet. According to a video posted by him on his official account, he inspected the graveyard at 11.18 am on August 9, almost 30 hours before he was confirmed free of the virus.
In the same video, towards the end, the mayor can also be seen wearing a mask only over his mouth, and not the nose. He is surrounded by 14 people in that video, including Kukatpally MLA Madhavaram Krishna Rao and GHMC Secundrabad zonal commissioner.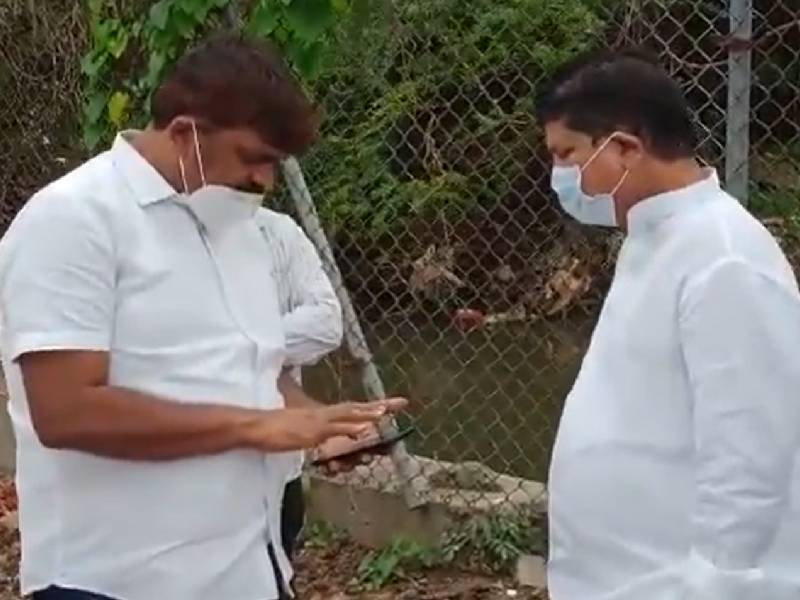 On August 10, at 11.35 am, the mayor can be seen with Municipal Authority and Urban Development minister K.T. Rama Rao, education minister Sabitha Reddy and over 20 other people, inaugurating the Bairamalguda RHS flyover at LB Nagar.
In the video, there is a clear violation of Covid-19 protocols prescribed by the Government of Telangana, including maintaining 1 m distance with others.
It was at 7.09 pm on August 10 that the mayor published an official report of him testing negative for Covid-19.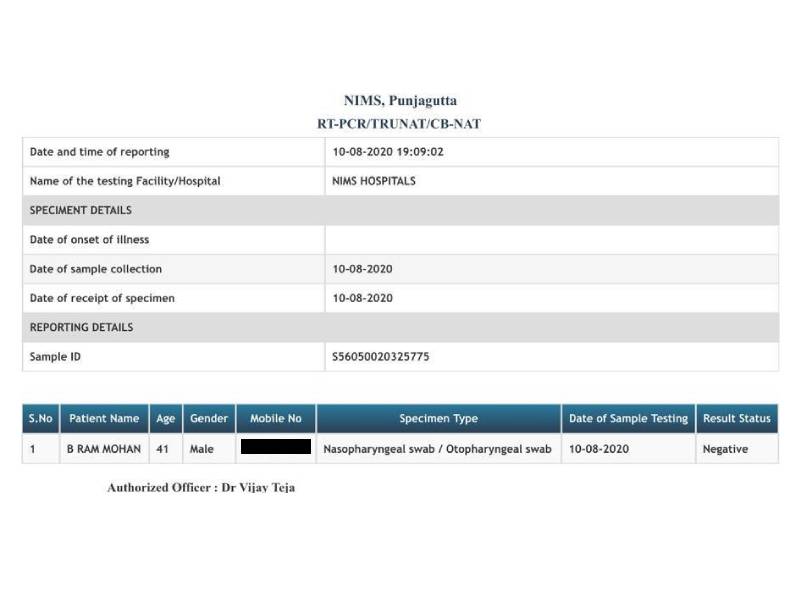 Source: Mayor Bonthu Rammohan
The Union Ministry of Health and Family Welfare, in the official home quarantine guidelines for Covid-19 patients, insists that they should strictly not attend any religious/ social gatherings.
Speaking to Newsmeter about stepping out of home isolation, the Mayor said, "I had taken a blood test on August 8 morning, and it showed that the infection rate in my bloodstream was low."
Dr Bonthu Rammohan had tested positive for Covid-19 on July 26. When he tested positive, he had announced on Twitter that he was asymptomatic and under home quarantine.