Highlights
Anjani Kumar is an agent of KCR, RSS: Uttam
Party fumes at denial of permission for foundation day fete
Hyderabad: Denial of police permission to organise a peaceful Satyagraha sought by the Congress party to celebrate its 135th foundation day in Hyderabad came in for sharp criticism and drew flak from all State Congress leaders on Saturday.
Launching a virulent attack against the administration, and particularly singling out City Police Commissioner Anjani Kumar, State unit Congress Chief N Uttam Kumar Reddy accused him of being an agent of Chief Minister, K Chandrasekhar Rao (KCR) and RSS. He questioned the double standards of the government, which had no problem with clearing an RSS march that saw Sangh workers wielding canes and coming on horses while the Congress was not allowed to organise a peaceful gathering. NSUI students, Youth Congress leaders and party workers carrying Tirangas while on their way to Gandhi Bhavan, the party's State headquarters, were stopped, he said.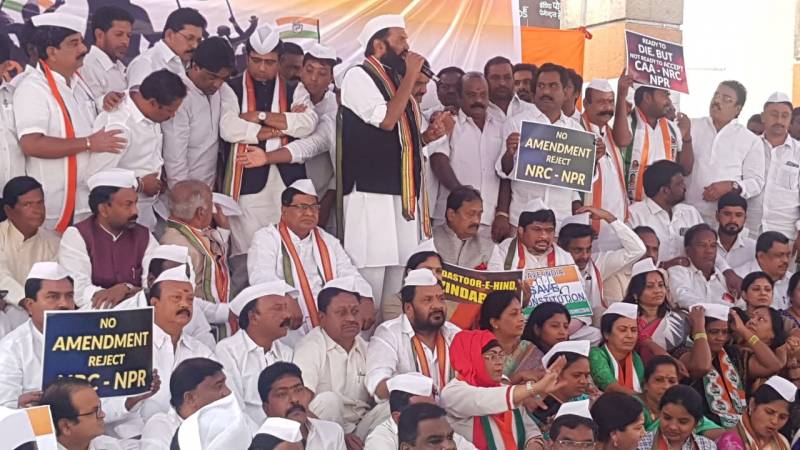 Reminding Anjani Kumar that he came from a different State, Mr Reddy pointed out that when he had met Mr Kumar for permission, the officer remained silent and did not respond favourably.
He fumed "Anjani Kumar, with his brazenly partisan behaviour and disgraceful servility, has conducted himself in a manner unbecoming of an IPS officer. He should consider putting KPS (Kalvakuntla police service) as his epaulettes rather than flaunting the IPS badge.
Komatireddy Venkat Reddy said "Stopping us on our foundation day is a conspiracy by the police. Such acts cannot end the Congress party. We will see an end to the dictatorship that is destroying the State. KCR, who has been hoodwinking people for the last five years, should not forget that it was the Congress that gifted them TRS Bhavan."
Congress MLA, Sitakka said "One should not forget that the State has been developed by successive Congress governments. The people should not forget that BJP, AIMIM and TRS are birds of the same feather."