Recently, film director Kona Venkat shared a picture of a crack on a PVNR Expressway pillar in his Facebook and Twitter feed, tagging GHMC and KT Rama Rao. Venkat pointed out that Pillar No: 20 of the PVNR Expressway had developed cracks and he asked authorities to take care of it before it was too late.
According to his post, the PV Narasimha Rao Expressway developed cracks on Pillar No: 20, panicking motorists. After the recent incident at Ameerpet metro station, where a piece of broken pillar killed a woman, everyone's focus is on flyovers and the construction of the Metro Rail.
NewsMeter found many news articles in various papers and websites mentioning the crack as seen by the local people. The break was first identified on September 25, as a few people had posted photos of the damaged pillar on social media. Later, film director Kona Venkat shared a picture of it on his Facebook and Twitter feed.
https://www.deccanchronicle.com/nation/current-affairs/270919/hyderabad-big-crack-found-on-pvnr-expressway.html
The locals are not sure when the cracks first developed. It seems they might have emerged following the torrential rains that lashed the city over the last few days. The locals said that there might be no danger to the structural health of the expressway, but they fear what would happen if a piece fell.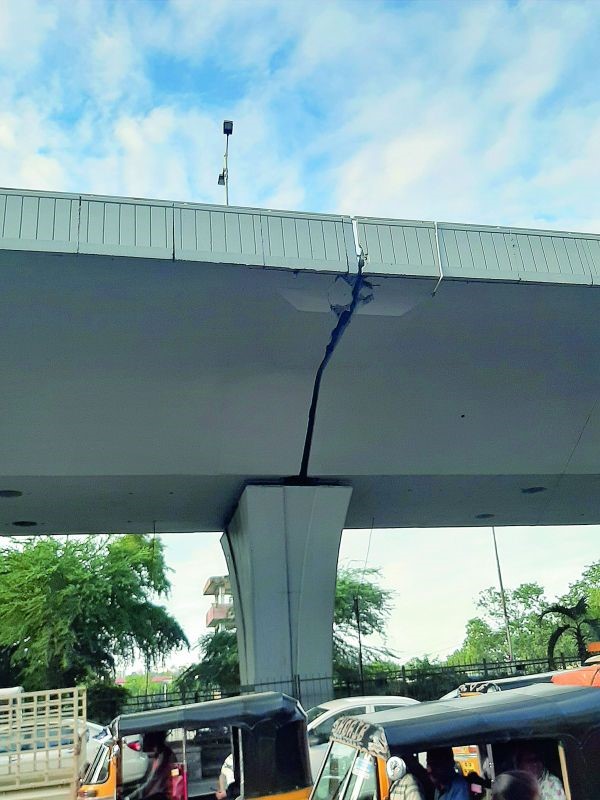 Officials inspected the spot and found no danger to the structure as cracks developed neither on the pillar nor the girder.
Fact-checking: A reverse image search of the image presented similar pictures recently posted by various websites reporting the incident. No pictures were found to be posted before September 25, 2019.
Claim: Cracks found on the PV Narasimha Rao Expressway, Hyderabad.
Claims by: Various social media platforms
Fact Check: True.
Also Read: https://newsmeter.in/drunk-passenger-causes-ruckus-on-hyderabad-metro-train-held/
Claim Review :
Cracks found on PV Narasimha Rao Expressway
Claimed By :
Social Media Users