Hyderabad: Call it a coronavirus effect, Telangana has recorded a 56 percent dip in the crime rate during the lockdown.
Figures reveal that 12 murder cases were reported from March 1 to 21 this year compared to 48 in the corresponding period last year.
Data reveals that theft cases have dropped by 94 percent and kidnapping cases have declined by 90 percent. Missing cases have also witnessed a 75 percent decline.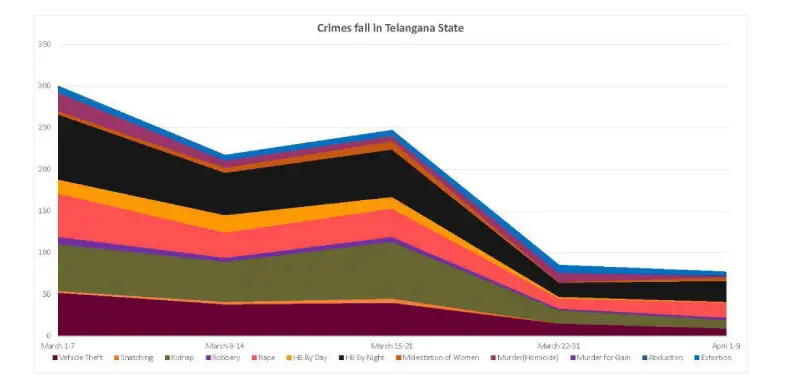 Domestic violence cases and accident-related death have also sharply fallen in the lockdown. However, the crime rate has slightly increased in Hyderabad, Suryapet and Adilabad districts.
On the other side, the Telangana police department control room has witnessed a massive surge in SOS calls during the lockdown. Since March 21, Dial 100 has received 13, 34,330 calls. Of which 84,123 calls were about the lockdown and corona related issues. Around 21,758 calls were related to lockdown violations and 87,665 calls were ineffective.
The majority of the people wanted to know about COVID suspects. It was also found that people were dialing the control room in a panic situation. Some were disturbed about the people skipping quarantine. Some callers were perturbed by the reports that people with COVID-like symptoms were moving in public places.