Hyderabad: The four accused in the gang-rape of the Vet doctor succumb to bullet shots, they reportedly sustained injuries on the chest and stomach region. According to Cyberabad police, 25 rounds were fired and eight bullets were recovered from the bodies.
Two cops suffered injuries during the encounter between the four accused in the gang rape and Cyberabad police, officials said. Sub-Inspector Venkateshwaralu (35) suffered injuries on his head while Constable Aravind Goud (35) injured his left hand.
The medical bulletin of a private hospital said, "The two cops were brought to the emergency room at around 8.30 am after they were allegedly assaulted by the accused. Abrasions are present over the frontal region of Venkateshwaralu's head, and Aravind suffered a blunt injury on his left hand and shoulder. Both have been kept under observation, and the patients are neurologically and Hemodynamically stable."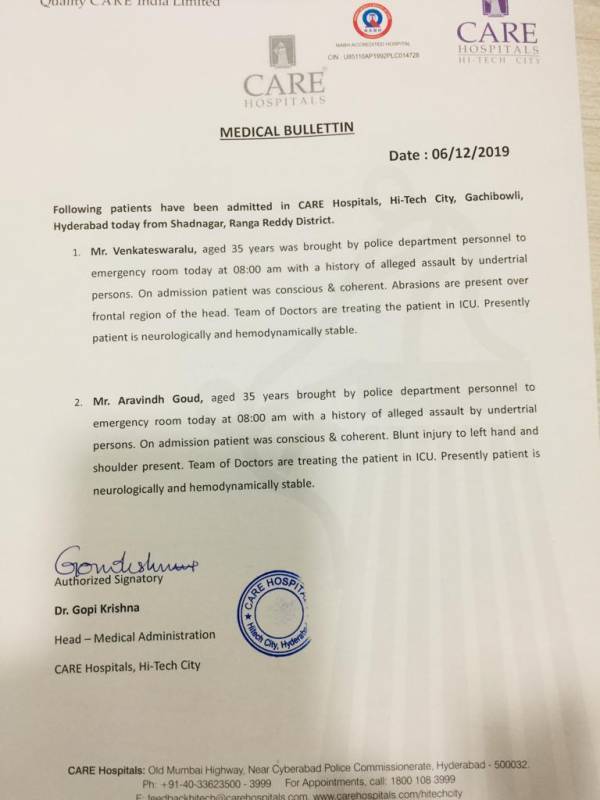 Telangana police came out with their version of the encounter, where they killed the four accused in Disha's rape and murder, on Friday. Police said the alleged rapists tried to snatch one of the officer's handguns, resulting in a retaliatory action that lasted 15 minutes.
On the intervening night of December 5 and 6, the four men, who were in the custody of the Cyberabad police, were taken to Chatanpally culvert where the charred body of the vet doctor was found.
Unfolding the incident, Cyberabad Commissioner VC Sajjanar explained, "The accused were taken to the Chatanpally culvert to reconstruct the crime scene. While the officers tried to question them about the location of the missing cell phone, the four accused ganged up and tried to attack the police using sticks and stones. One of the accused, Mohammed Areef, snatched a revolver from the police. The cops present at the site insisted the four to surrender, but none adhered which resulted in a firefight. They continued to attack the cops, and the four were later found dead, metres away from the crime scene."
Later in the day, the officers took the bodies to Mahabubnagar police station for post-mortem process.