Hyderabad: A fresh bulletin issued by Indian Metereological Department (IMD) said that the depression over the southeast Bay of Bengal is likely to intensify into a cyclonic storm in the coming 12 hrs, that is, by evening of May 16. This may turn into a severe cyclonic storm in the next 24 hours, the weather body predicted.
The cyclone will not affect the Andhra Pradesh coast much, but heavy rainfall is predicted over isolated places of North Coastal Andhra Pradesh and Yanam. " "Coastal Odisha and Coastal districts of Gangetic West Bengal is likely to experience light to moderate rainfall at many places with heavy falls at isolated places from 18 th May evening, heavy to very heavy rainfalls at a few places on 19th May and isolated heavy rainfall over northeast Odisha on 20th May 2020."
Thunderstorm accompanied with gusty winds with a speed of 30-40 km per hour is also expected in isolated places of north coastal Andhra Pradesh and Yanam. The weather conditions are likely to prevail over Andhra Pradesh for the next four to five days.
However, in Telangana, the temperatures are set to rise. The IMD predicted that the temperature will be around 41 to 43 degree in isolated places of Telangana.
The IMD also warned fishermen from venturing into Bay of Bengal (BoB) till May 20. It said, "The sea condition will be rough to very rough over south and adjoining central BoB and Andaman Sea till 16th May afternoon. It will be high over southwest and adjoining central BoB from the 16th May evening, very high over the same region from 17th morning. It will become phenomenal over southern parts of central BoB on 18th, over northern parts of central & adjoining north BoB on 19th May and over north BoB on 20th May 2020."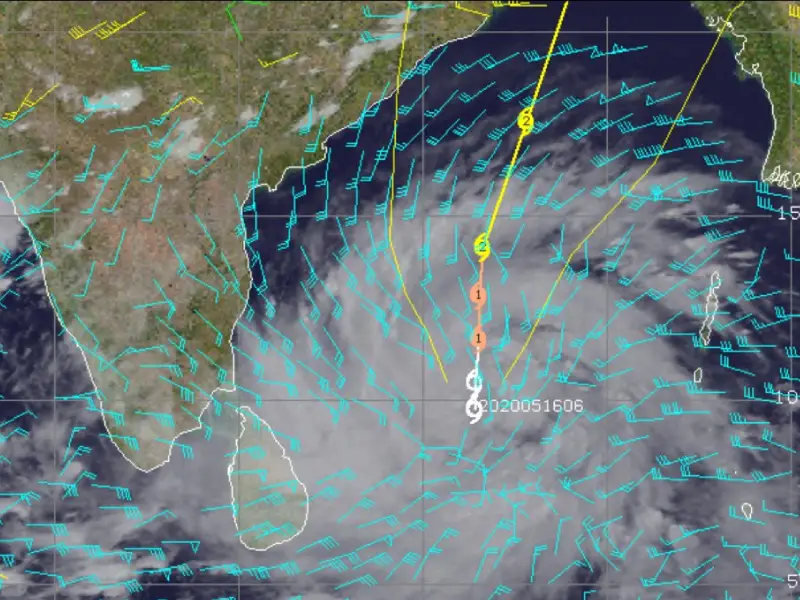 Rains in Hyderabad
Hyderabad recorded a rainfall of 54.33 mm on 16 May, making it the highest rainfall witnessed this month till now. The rainfall is a result of cumulonimbus clouds over Hyderabad, said IMD Hyderabad.
Mahesh Palawat from Skymet, a private weather forecasting agency said, "Indirect effect of cyclone led to rains over Hyderabad. Humid winds from both Bay of Bengal and Arabian Sea are reaching Telangana, hence there is rainfall over Hyderabad. While we expect some shower activities tomorrow as well, after May 18 dry weather is likely to prevail over Telangana."
The Cyclone is set to move north towards West Bengal and might probably impact Bangladesh, he added.