Hyderabad: The deep depression formed over East Central Bay of Bengal is all set to intensify further into cyclone Bulbul by Wednesday, said a fresh forecast issued by Indian Meteorological Department. This depression is expected to subsequently head towards North Odisha and West Bengal from November 9. However, this cyclone poses no threat to any of the two Telugu speaking states and Tamil Nadu.
Flash – ECMWF predicts Cyclone BULBUL in East Central Bay of Bengal in next 72-96 hours. Alert for North AP, Odisha, West Bengal, Bangladesh and Myanmar coast. pic.twitter.com/mr1PvE51l6

— Parthan IN Weather (@parthasri201475) November 4, 2019
Mahesh Palawat, Chief Meteorologist, Meteorology and Climate Change, told NewsMeter that there are chances for Bulbul to intensify into a serious to a very serious cyclone. "Sea surface is in a favourable temperature of 49-30 degree Celsius. This is fuelling the depression into a cyclone. Hence, the depression will keep moving towards northwest Odisha and West Bengal coast, and it is expected to create rainfall in the region by November 9. However, right now, these predictions cannot be said to be accurate," he added.
Wind speed over north coastal Andhra Pradesh is likely to be strong (up to 60 km per hour), and sea condition may become erratic from November 6 to 9. After Odisha and West Bengal, Bulbul is expected to move towards Myanmar and Bangladesh.
Seventh cyclone to hit India in 2019
Cyclone Bulbul is the seventh storm to hit India this year. To date, the country received four cyclones in the Arabian Sea and Bay of Bengal 2. Of this, three were tropical cyclones. According to Regional Specialised Meteorological Centre (RSMC) of Tropical Cyclones latest report, it was in 1985 that India last received seven cyclones in a year.
Who names the cyclones?
Cyclones are named following the guidelines set by the World Meteorological Organisation (WMO). Eight southeast countries, including India, suggest names for cyclones developing in the north Indian Ocean.
Tropical cyclones are named to help in quick identification and reporting. They are local names familiar to the people in each region. Pakistan suggested the name 'Bulbul'.
Sri Lanka, Bangladesh, Maldives, Myanmar, Oman, Pakistan and Thailand are the other countries in the eight-member committee, which formed in 2018. Presently, all eight members have suggested eight names each for cyclones occurring in the future. Based on suggested names, a pre-designated list is prepared for the upcoming cyclones.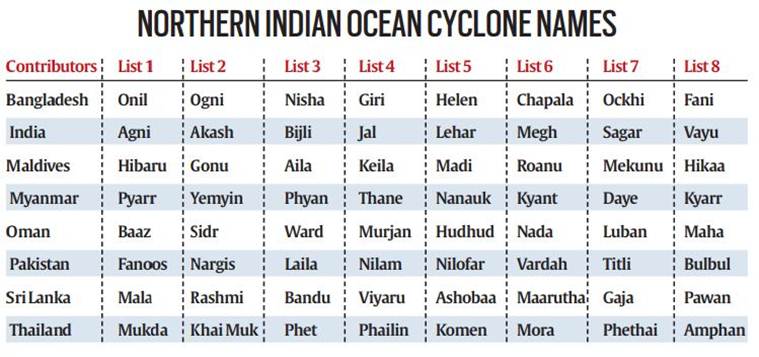 The RSMC of Tropical Cyclones in New Delhi is the agency responsible for naming the cyclones from the WMO list. The names for the cyclones will be used column wise. Bulbul is listed sixth in list 8.
Oman named the last cyclone 'Maha', which is still active over the Arabian Sea. It is fifth in list 8. The names suggested by India for the current list are Agni, Akash, Bijli, Jal, Lehar, Megh, Sagar and Vayu. After the 64 names in the current list are exhausted, the eight countries will propose a new list of names.