Fact Check: Dabangg-3 fame Javed Hyder is not selling vegetables for living, due to lockdown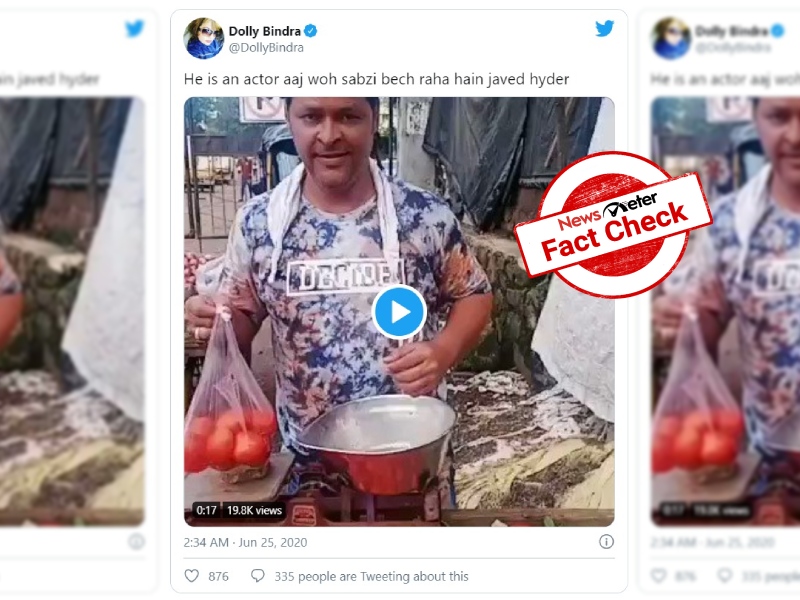 By N.N. Dharmasena
Hyderabad: The unexpected and prolonged lockdown in the country has made many lives miserable. People witnessed lakhs of migrant workers walking thousands of miles to reach homes, hundreds of people losing lives on the roads, and numerous people losing jobs, livelihood and confidence, during the pandemic.
Due to the non-productive situations across the globe and consumers locked in their houses, many of the employees faced pay-cuts, layoffs, and reduced workdays. To earn whatever they could, many of the people opted for temporary works. The media reported on teachers selling bananas, engineers driving taxis and delivering food, and other many instances of people, who earned more before lockdown, struggling to make a living during the pandemic.
One video of Javed Hyder, an Indian actor who shot into fame after acting in Dabangg 3, Life ki Aisi ki Taisi, Baabarr and TV series like Jeannie aur Juju, was shared by actress Dolly Bindra on Twitter. She said that the actor was selling vegetables today.
The social media users made the Twitter post and video go viral on various platforms and many people commented that no work is small and appreciated him for identifying the dignity of labor. However, is Javed Hyder really selling the vegetables as claimed by Dolly Bindra and believed by the social media users? No. It was a false claim.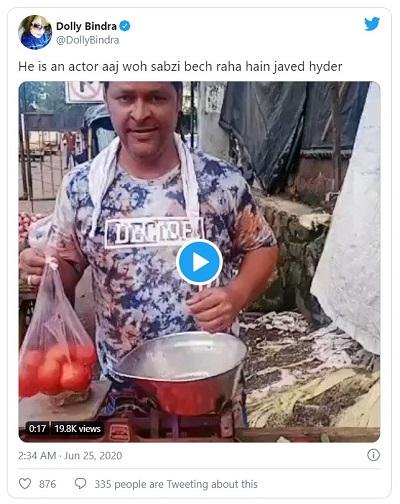 FACT CHECK:
The viral message on Bollywood actor Javed Hyder selling vegetables is FALSE.
The video shared by Dolly Bindra is a TikTok video from the Javed Hyder account, @javedhydersayyed2. He posted the video lip-syncing to 'Duniya mein rehna hai' on TikTok on June 23 and Dolly shared it on June 25.
Javed Hyder is active on TikTok since 2018. As an actor, he used to share the clips of his performances in films and shayaris for his fans and followers. Responding to the viral video, the actor with 23 years of experience and who acted in 300 plus films, clarified that the video was just an act. In his interview with the Times of India Group, he said that he borrowed the vegetable cart for the shoot, and suddenly, it has gone viral overnight.
"A lot of people commented on my video thanking me that I have encouraged them to not give up in life, they actually thought I was facing a financial crunch. There were so many positive messages. The second video also got viral. Then one day, my friend called me and informed me about Dolly Bindra's tweet that I have no work and hence, I am selling vegetables. I read her message on social media and replied to her that the information was wrong and I am an actor and not a vegetable vendor. I continued to make videos as I saw it is motivating people to earn and I felt if I am able to touch a few people's lives through this video, there's nothing wrong in it," he said Javed in his interview.
Links:
https://timesofindia.indiatimes.com/tv/news/hindi/exclusive-contrary-to-the-reports-jeannie-aur-juju-actor-master-javed-aka-javed-hyder-clarifies-i-am-not-selling-vegetables-to-earn-my-living/articleshow/76699326.cms
In one of his latest videos he posted on TikTok, he read a shayari
'Sach nahi hai.. yeh jo bhi dikhaya gaya
sach toh vo hai.. yeh jisko chupaya gaya
jo batana tha vah bataya nahin..
jo batana tha vah to bataya nahin..
mere bare mein kya kya bataya gaya..'
Hence, the viral message on Bollywood actor Javed Hyder selling vegetables is FALSE.
Claim Review :
Dabangg-3 fame Javed Hyder is selling vegetables for living, due to lockdown
Claimed By :
Social Media Users