Dangerous crossing: Telangana migrant workers illegally jump Oman-UAE border, long for home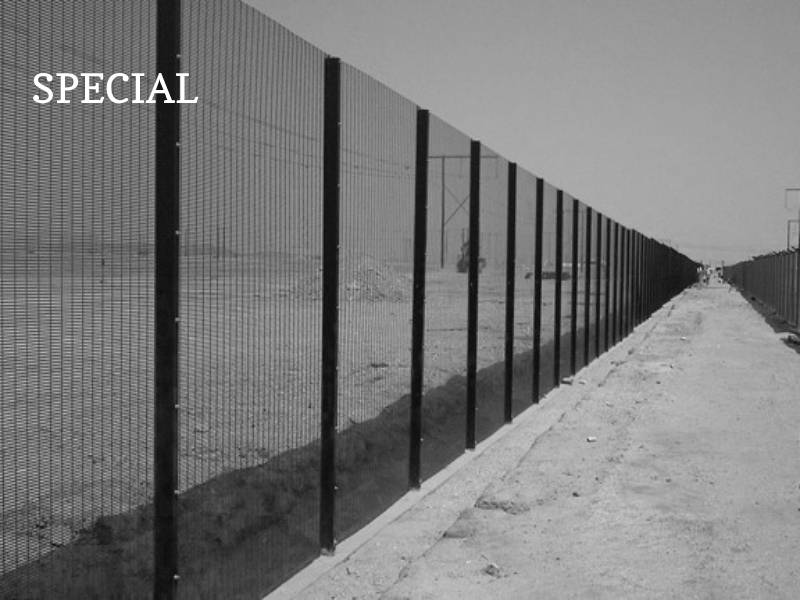 Hyderabad: On 27 August, Jangili Peddulu of Nagunoor village in Jagtial district, Telangana finally reached Hyderabad. He was in Dubai illegally since the last five years after he crossed the Oman-UAE border in 2015 and reached Dubai as a Khallivelli (irregular worker).
In hindsight, Jangili Peddulu says it had been a bad idea. "I crossed the border five years ago after hearing rumours that there would be better job opportunities in Dubai. But it was a wrong move and no one should do it," he said.
With the help of some social workers in Dubai, Jangili Peddulu managed to obtain an emergency certificate (temporary passport) from the Indian consulate in Dubai and permission from the Dubai immigration department to leave the country.
While Jangili Peddulu has reached home, there are still hundreds of migrant workers from Telangana who are stranded in Dubai and Sharjah in the UAE after illegally crossing the borders from Oman. They don't have any legal documents to return home.
According to Swadesh Parkipandla of Pravasi Mithra Labour Union, every year around thousands of Indians crosses either side of UAE-Oman. Most of them are trying to cross over to the UAE side.
Dubai: Paradise for irregular workers
People from various parts of India go to UAE on a work visa. Many of them have no proper education and hence find it difficult to find white-collar jobs. Instead, they get jobs in construction sites, hotels, or as a house boy. After working in these places for a while, they leave their jobs and start working as Khallivelli. Working as an irregular worker pays well.
"Companies pay as per their norms and work hours are restricted. Outside, migrant workers can earn more, sometimes three times what the companies offer," said Bheem Reddy Mandha, an expatriate labour leader and president of Emigrants Welfare Forum in Hyderabad.
Sometimes the workers find the working conditions unfavourable, like unhygienic accommodation facilities, sharing a room with six or seven others, or unsavoury foods. So, they leave their original job and find work as Khallivelli.
Many migrant workers prefer to go to Dubai where they can work at four different houses and earn a good amount. They usually overstay their visa because if they return to India, then to get back to Dubai they have to start the whole process again – find a job opening in UAE, get a work visa, and emigration clearance, which can sometimes take a year.
"Working as an irregular worker, as a house boy they earn around Rs. 60,000. On average these workers make Rs 35,000. Many take loans to go to UAE or they have to pay the agents who helped them get to the country. So they are satisfied working as Khallivelli," said Swadesh Parkipandla.
The problem starts when they abscond and their original employer files a complaint. After that, the authorities put them under the category of runaway workers. Sometimes they are caught and after paying a fine for illegal stay, they are deported to India. If they are unable to pay the fine they are jailed. Once deported, the UAE authority bans them for years.
Jella Mallaiah (46), a resident of Rangadhamunipalli village, Gollapalli Mandal in Jagtial District, Telangana, went to Dubai in 2007 as a construction worker. After working for a year, he left the job and started working as an irregular worker. His work visa was for two years but he overstayed for four years. "In 2013, I decided to come back home. But my visa had expired and the only way to return home was to either pay the hefty fine or go to jail. I paid the fine and I was deported through the jail. I had to give my biometric details to the Dubai authority," said Mallaiah.
Taking the illegal path
After these migrant labourers come back home, they start working in agricultural fields or at construction sites, earning between Rs. 10,000-15,000 for the same work. The amount is very less compared to what they earned in the UAE.
Since they were deported, they are not allowed to enter the UAE again. The UAE authorities have their biometric details so that even if they change their passport or their name, they will be caught and sent back again.
Left with no other option, they contact someone in the UAE and ask for work. If they find work, then they contact an unauthorised agent. These agents offer them a UAE package. "I gave Rs. 90,000 to an agent in Hyderabad. He booked a flight to Muscat, Oman, and arranged a visiting visa to Oman. I reached Muscat and I stayed there with some agricultural workers for a week. After seven days, along with an agent in Oman, I crossed the Oman border in a vegetable truck," said Jella Mallaiah who again went back to Dubai, illegally crossing the border in 2017. He was finally deported in January 2020.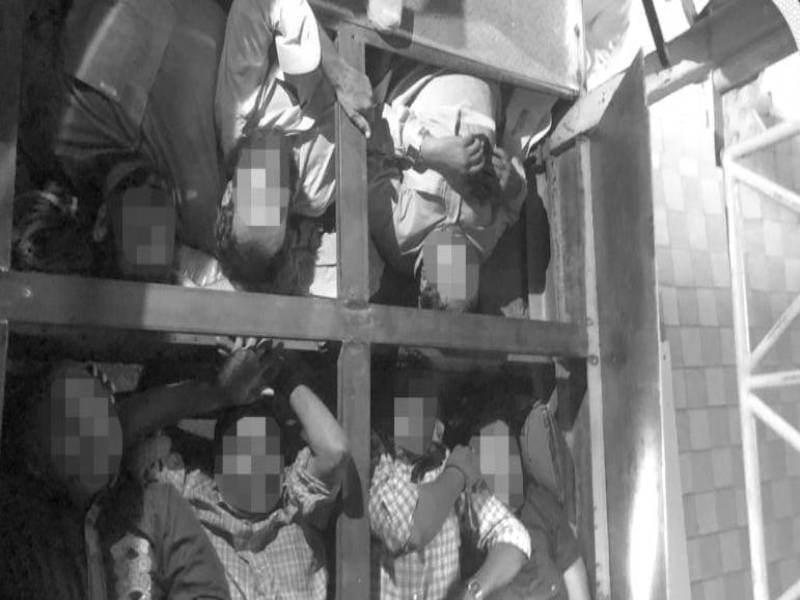 Illegal workers hidden in trucks while illegally transported to UAE
"These unauthorised agents provide different types of packages to these people ranging from Rs. 90,000 to Rs. 2 lakh. It depends on how safely they can help you reach the place," said Bheem Reddy Mandha.
Shooting at the border
Durgam Bheemaiah of Patha Gudoor village from Velgatoor Mandal in Jagtial district, Telangana went to Dubai in 2008. He could not last a year in his job and absconded. He reached Oman illegally where he worked for three years without any legal documents. After three years, he wanted to return home.
But his visa was for UAE. So, he would have to return from Oman to Dubai. He tried to cross the border along with two Bangladeshi citizens. Unfortunately, they were spotted by the Oman security personnel at the border. They tried to escape but the security personnel opened fire at them. All of them died.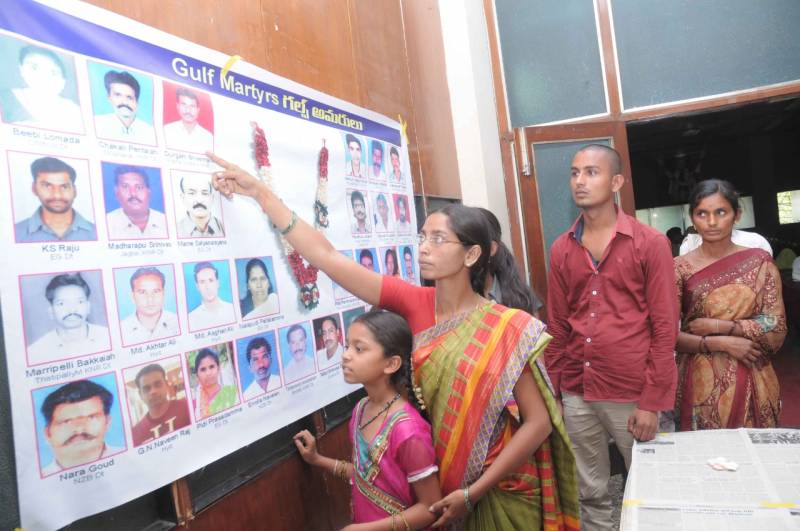 Durgam Swapna widow of Durgam Bheemaiah showing the picture to her children at Gulf Martyrs Day on May 1, 2013
COVID-19 worsens situation for migrant workers
The COVID-19 crisis has taken a heavy toll on the UAE economy which relies on these migrant workers. Ninety per cent of the workforce in the UAE is made up of people from various countries. These workers are now facing severe hardship due to the scarcity of jobs. All migrant workers, both legal and illegal (regular and irregular), have been equally affected by the pandemic. Those employed as domestic workers are the hardest-hit.
"Since March, we have had no work. I came to Dubai via Oman in 2017. Till February, I was working as a house boy. Suddenly one day I was asked to leave my job and given some compensation. I survived for a few days with that money. Once the money ran out I started moving from one camp to another for food and shelter," said Raju (name changed), a migrant labourer in Dubai.
Rupesh Mehta of Jain Seva Mission in Dubai said, "We have served thousands of migrant labourers ever since the pandemic broke out. These labourers are mostly from South Asian countries. When the Indian government started the expatriate program, we started helping them reach home. Most of them have overstayed or do not have their passport as they had absconded from work or had crossed the Oman border illegally."
Without jobs and forced to live in inhuman conditions, these migrant workers are still trying to return home.
Difficulties in returning home
In May 2020, UAE announced the Amnesty scheme to allow illegal workers to return home without serving jail time or paying fine, provided that the home country verifies these workers as legal citizens of the country.
Lakhs of Indian migrant workers in UAE are trying to return home after the pandemic. Illegal migrants, however, are struggling to obtain the necessary documents from the Indian Embassy and consulates in UAE.
"I am waiting for my documents to reach the consulate in Dubai. I gave my original passport to the agent in Oman before crossing the border. I don't have any passport," said Raju.
Like Raju, Mulkala Sathyam, a resident of Nakkalapet village under the Dharmapuri Mandal in Jagtial district, went to Muscat in July 2018. Now he is unable to return home as he doesn't have valid documents. His wife approached Jagtial district collector for help to get the identity documents so that her husband can come home.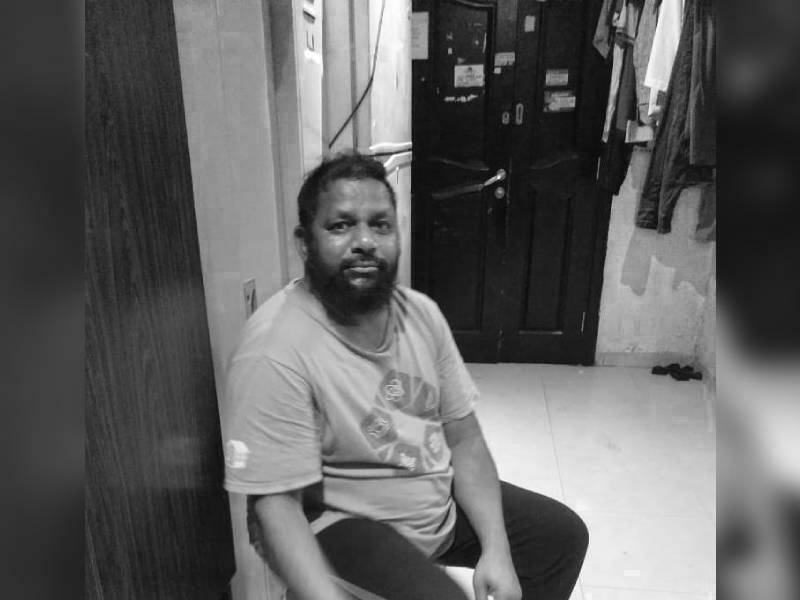 Mulkala Sathyam
"They want to return home and we are trying to obtain emergency certificates for them. This is possible only when the authorities from India send their details," said Rupesh Mehta.
Guggilla Ravi Goud, Convenor of Telangana Gulf Workers Joint Action Committee added, "The process to get an emergency certificate(temporary passport) is the same as applying for a passport. The consulate or the embassy will send the details to the regional passport office. The regional passport office will ask the concerned district police to verify the details. The special branch police of the district will send the details to the regional passport office which will in turn send the details to the consulate. After that, the consulate will issue an emergency passport."
Dangerous crossings
The governments of India, Oman and UAE are aware of the triangular illegal border crossings. There have been many cross-border incidents that have come to light in recent years.
In 2008, two of the 10 workers from united Andhra Pradhesh who died in a fire mishap in Dubai had crossed the Oman-UAE border illegally.
"If the government of India knows that a certain number of people are travelling to a country for a certain period of time, and if they do not return after this period is over then it should make inquiries. Similarly, the Oman government should have a mechanism to identify people who are there on a visit visa. The UAE knows that some of the workforces in the country are illegal and yet it takes action only when the matter comes to them," said Guggilla Ravi Goud.
The workers, meanwhile, see cross-border human smuggling as an opportunity to live better lives.
"What I earn in India will not even help me buy food for my family. I knew the risk of crossing the border when I crossed over to UAE. But if I want to provide a better life for my family, I have to go through this process," said Raju.
In 2017, a Telugu movie, 'Gulf', had highlighted the situation of migrant workers working in the Gulf countries. Shiva goes to Gulf with the hopes of earning good money. There, he meets Lakshmi who is also in the Gulf for the same purpose. Their friendship transforms into love but they become victims of injustice. They try to escape but lost their lives while crossing the border. Thousands of migrant labourers try to cross the border like Shiva and Lakshmi putting their lives in danger.
Thousands of migrant workers are smuggled to UAE via Oman every year. The pandemic has turned their lives miserable as the system that has helped them survive there has stopped functioning. Now, they are stranded there, in a foreign country, with no job, waiting to come home.
This story has been published as part of the Internews Information Saves Lives: Rapid Response Fund project to NewsMeter.