Hyderabad: The Indian Veterinary Association (IVA) has condemned the arrest of two veterinary doctors over the death of a pet dog at the Chief Minister's camp office. The association further has asked the Telangana government to conduct an enquiry before taking any action against the doctors.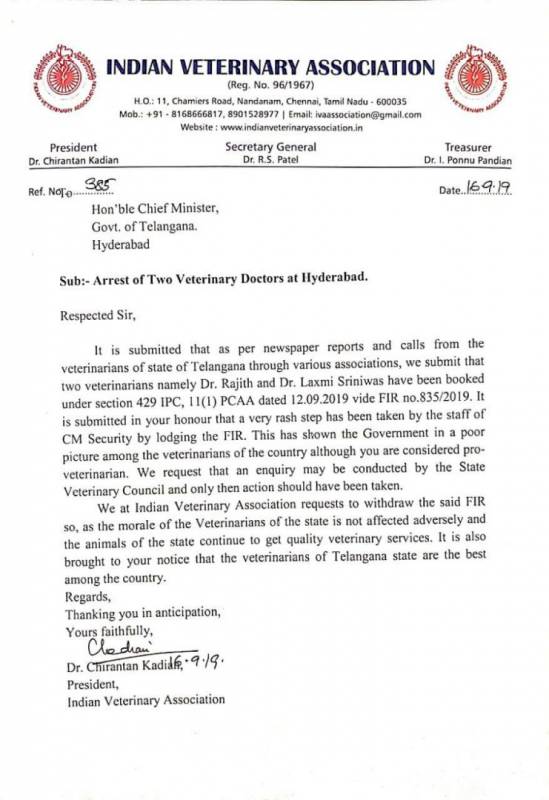 A case against Dr Rajith and Dr Laxmi Sriniwas has been booked under section 429 IPC, 11(1) PCAA dated September 12, 2019, over the death of a pet dog at the CM's camp office 'Pragathi Bhavan.'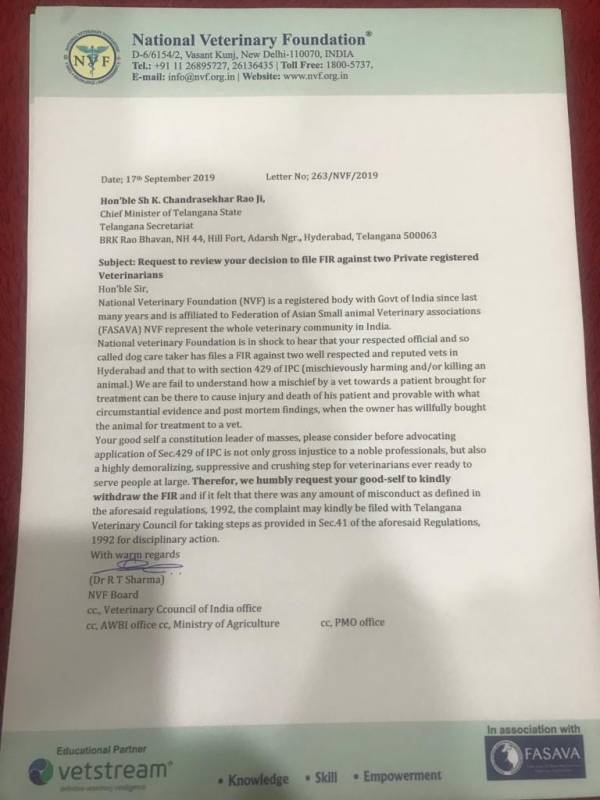 "We request the Chief Minister's Office to conduct an enquiry into the incident and withdraw the FIR against the two veterinary doctors. It's submitted in your honour that the staff of CM security has taken a very rash step by lodging the FIR. The incident has shown the state government in a poor picture among the veterinarians of the country. Although, you are considered a pro-veterinarian. Indian Veterinary Association requests the state government to withdraw the FIR, so that the morale of the veterinarians of the state is not affected adversely," said Dr Chirantan Kadian, president, IVA.
Dr Kadian further said that this would also ensure that animals in the state continue to get quality veterinary services. The veterinarians in Telangana are best among the country, added the association.
The officials stated that the case was booked stating mischief by killing or maiming cattle. The doctors were also booked under other sections of prevention of cruelty to Animals Act. A dog handler, who is working at Pragathi Bhavan, filed the case against veterinary doctors.
The 11-month-old dog died on September 11. Subsequently, the dog handler filed a case against veterinary doctors on September 12.
Congress and BJP leaders have been criticising the TRS government over the arrest of veterinary doctors. The opposition parties further found fault with the state government for not taking any preventive measures. No action though several people died of dengue, malaria and viral diseases in the state, they criticised.