Aam Aadmi Party (AAP) took a early lead as the counting of votes started at 8am on Tuesday. Bharatiya Janata Party (BJP) is set to gain as results seems to be better than 2015.
At 3:30pm
AAP leading in 63 seats and BJP leads in seven seats.
At 2:30pm
Andhra Chief Minister YS Jagan Mohan Reddy, congratulates Arvind Kejriwal
Hearty congratulations to @AamAadmiParty & @ArvindKejriwal on the remarkable victory in #DelhiPolls2020. Wishing you a successful tenure ahead. #DelhiResults

— YS Jagan Mohan Reddy (@ysjagan) February 11, 2020
At 2:00pm
Atishi Wins from Kalkaji
AAP's bigwig Atishi Marlena won from Kalkaji constituency by a margin of 7337 votes. Atishi is one of the important candidates of AAP, who is an educator activist turned politician.
At 1:30pm
AAP leads in 58 seats, BJP in 12, Congress still zero
Congress Candidate Alka Lamba accepts defeat, says Hindu-Muslim votes were polarised.
DMK MP Kanimozhi congratulated Arvind Kejriwal for his victory in Delhi Elections.
A resounding NO to the "politics of hate".

Congratulations to @ArvindKejriwal
and @AamAadmiParty for this huge victory. #DelhiResults

— Kanimozhi (கனிமொழி) (@KanimozhiDMK) February 11, 2020
At 1:00pm
East Delhi MP Gautam Gambhir said that they accept the decision of Delhi citizens and he also congratulated Arvind Kejriwal stating that he hopes Delhi to develop under his chief ministership.
At 12:30pm
Aap leading in 57 seats and BJP IN 13 seats.
AAP wins his second seat in Delhi assembly polls, from Deoli constituency. AAP candidate Prakash has secured his seat in the constituency.
AAP campaign strategist Prashant Kishore thanks voters for saving the "soul' of India.
Prashant Kishore posses with Arvind Kejriwal after leading in most states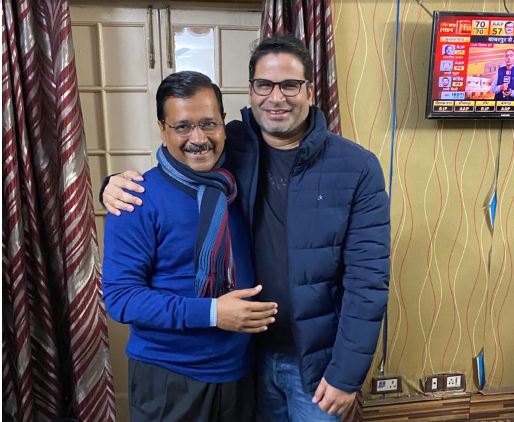 At 12:00pm
After fifth round of counting in Patparganj assembly constituency, Manish Sisodia of AAP trailing behind BJP's Ravi Negi by 1576 votes.
AAP leading on 58 seats and BJP in 12 seats.
Congress Delhi chief agrees defeat
Congress Delhi Chief Subhash Chopra while speaking to media said, "We will analyze the factors behind Part's performance, and I take complete responsibilty for loss." He added that lesser veter percentage is because of politics of polarisation by AAP and BJP.
At 11:30am
As fifth round of counting came to an end at Hari Nagar constituency, AAP's Raj Kumari Dhillon is leading against BJP's Tajinder Pal Singh Bagga.
At 11pm
Trends after third round of counting: AAP's Manish Sisodia is trailing behind by 1427 votes to Ravi Negi in Patparganj assembly constituency.
At 10:30am
AAP is ahead in 53 seats and BJP in 17. AAP's bigwigs, Manish Sisodia, Atishi and Gopal Rai are leading in their respective constituencies.
In Chandni Chowk constituency, AAP's Parlad Singh Sawhney is leading with 6043 votes, while Congress's Alka Lamba at 157 votes and Suman Kumar Gupta at 67 votes.
At 10am
AAP Party leading on 32 seats, while BJP is leading in 16 seats. Delhi Chief Minister Arvind Kejriwal is leading by 2026 votes in his New Delhi constituency.
At 9:30am
Arvind Kejriwal's vote counted at Gole Market
The EVM's were kept at Atal Adarsh Bengali Balika Vidyalaya in Gole Market under tight security. The seat is imposrtant for AAP as in 2013 for the first time Arvind Kejriwal pipped three time CM of Delhi Sheila Dikshit.
At 8:43am
BJP candidate from Harinagar constituency Tajinder Pal Singh Bagga is leading according to the initial trends.
At 8am
The counting of votes began. While AAP party is trying to regain power in Delhi. BJP seems bold enough to oust them.