Hyderabad: Commuters, on Tuesday morning, encountered traffic jams and were caught by surprise when asked to take a diversion on main-roads leading to Secretariate building. The reason being, the Telangana government began demolition of the multi-block building. This comes a week after the state government got the clearance from the High Court to replace the old one with a new and sophisticated building.
However, the demolition activity led to traffic inconvenience to the commuters on roads leading to Old Secretariat building, as the en-route was temporarily shut. Commuters complained that there was no public notice before the activity was carried out. Commuters heading to the office faced anxious moments over being late to their workplace as they had to take a U-turn and find alternative routes to their destinations. There was also heavy traffic seen at, Hotel Dwaraka Paradise near Lakdi-Ka-Pul.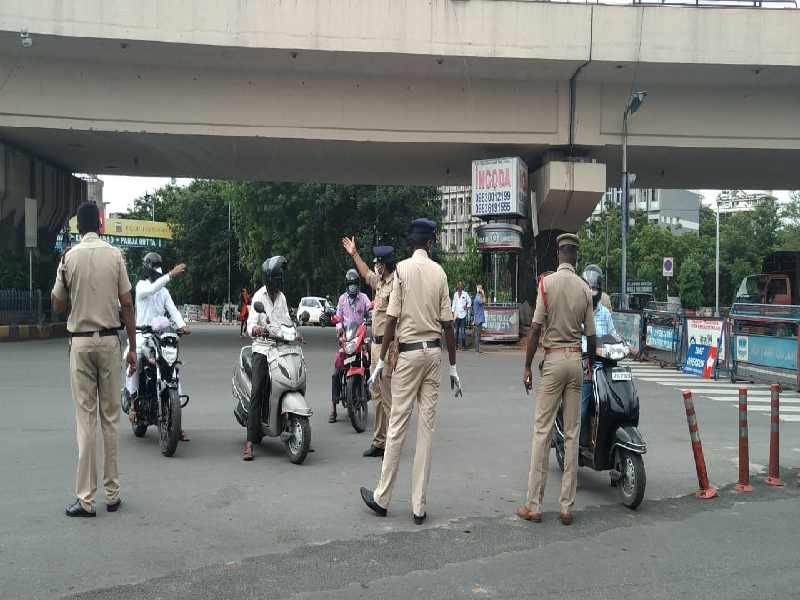 Another Commuter Bhaskar, said, "People are already facing a lot of trouble due to high current bill and Corona crisis. Is it necessary for the government to take up the construction work now? Common man is being forced to face the brunt of everything. My office is just
2 km away from here but due to the blockade, I have to travel 7 km now to reach there."
"I was commuting to my workplace this morning and was already running late. When I reached the lower Tank Bund near Marriot Hotel, I saw the barricading, even the traffic constable had no information but they diverted me towards Ashok Nagar when I had to go to Jubilee Hills. I had to take a very long route. It usually takes me 25 minutes to travel to work but today, it took me one-and-a-half hours to reach my office. Had I known about this, I would have started early. Now, I am 2 hours late," lamented Epsita Gunti, who works at Jubilee Hills.
Roads leading to #Telangana Secretariat have been blocked and there is a heavy police presence. Another chapter in #Hyderabad's history is erased, with the demolition of perfectly fine secretariat buildings. This is governance, TRS style. No focus on #TelanganaCovidFailure! pic.twitter.com/XEuNwHp3XP

— Aamer Javeed (@Aamer_Javeed) July 7, 2020
[amp-tweet tweetid="https://twitter.com/Aamer_Javeed/status/1280398026549243905"]
Speaking to NewsMeter, a traffic official said: "Both the Telugu Talli and Khairatabad flyovers going towards the Old Secretariat have been closed and traffic coming from Secunderabad also has been diverted at the Children's Park towards Lower Tank Bund and Indira Park. The public can use the RTC X roads to go towards Secunderabad." However, the traffic officials have not confirmed until when this diversion of routes will last.
The government demolished the 132-year-old secretariat building on Monday night amid high security. Utmost confidentiality was maintained until the last moment. Sources said it was planned in such a manner that petitioners are unable to move the Supreme Court to stall the demolition. Immediately after the court issued the order on June 29, security was heightened at the complex and arrangements to bring down the building started on a war footing. It was learned that Chief Secretary Somesh Kumar and DGP M Mahender Reddy monitored the demolition.
Here is a picture of the new secretariat building which is yet to get the Chief Minister's nod.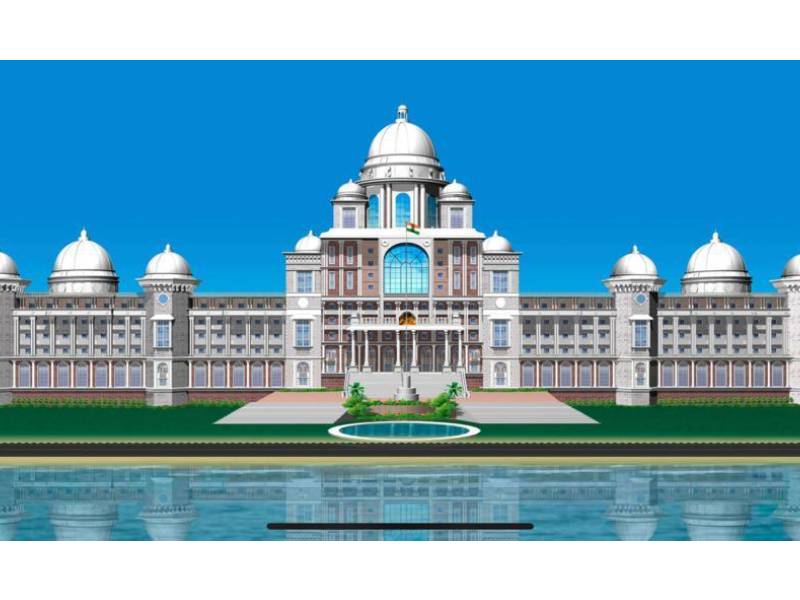 New Secretariat will come up at Errum Manzil at an estimated cost of around Rs 500 crores. It will have conference halls for Chief Minister and other ministers equipped with advanced technology.