Vikarabad: With a considerable increase in people suffering from dengue in Telangana, Crawford Memorial Hospital in Vikarabad is treating the dengue patients under umbrellas.
This comes in after the hospital ran out of beds and space within the hospital premises. They began treating people under umbrellas outside the hospital. The extreme increase in dengue patients, especially in Telangana has led to several deaths around the state, and the present scenario doesn't look any different.
Speaking of the same, mission doctor, Avinash said, " Its high time now that the government hospitals take preventive measures that are required for people's well being. With the increase in the number of people suffering from dengue, they are coming to us. We are trying our best to cure the patients.
With the hospital premises not being sufficient, we have arranged umbrellas and specialized beds and the treatment is going on", he further said.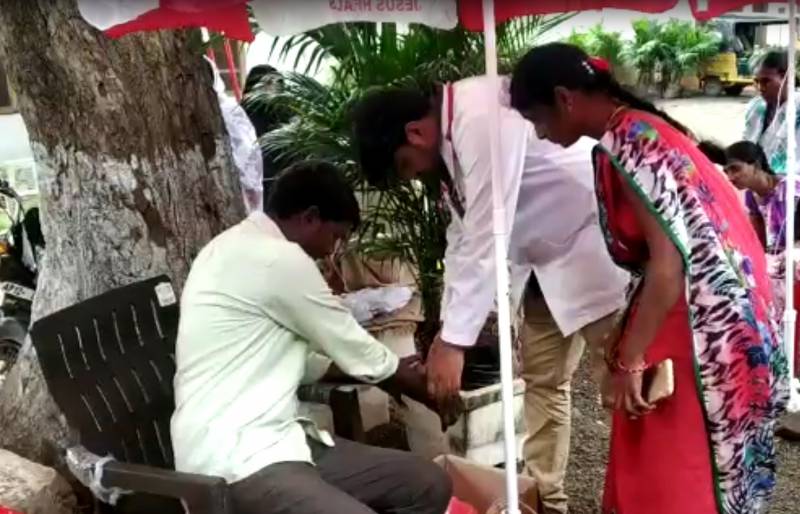 Speaking of the same, another doctor said, "Dengue fever has prevailed a lot in these localities. If you take our hospital, around 150-200 patients who are dengue positive, have come here and underwent treatment. There are a few measures that have to be taken to control this. Dengue is an Aedes aegypti mosquito-borne disease. So to control this disease, preventive measures such as fogging should be done in the localities by the municipality and controlling the growth of these mosquito breeds in drainages should be done to control this growing disease.
As long as the patient is treated once, with proper medicines and diet, there will be an increase in the blood platelets. The concern arises when the same person is diagnosed with dengue again and again", he further added.
It has been less than two weeks that four members of the same family succumbed to death due to dengue at Mancherial district in Telangana.