Floating the 2013 Supreme Court ruling in air, significant disparities have been observed in PAN details in the Contributions Reports of National Political Parties submitted to the Election Commission of India (ECI) for the financial year 2012-13 to 2017-18.
According to section 139 of the Income Tax Act, a contribution report that comprises the details of contributions above Rs 20,000 from any person or a company received by political parties is required to be submitted to the ECI in form 24A before the due date for furnishing a return of its income of that financial year.

However, the Association for Democratic Reforms (ADF) in its latest report on Analysis of Donations received by National Political Parties – FY 2017-18 have observed that four National Parties BJP, INC, CPI and CPM have not declared PAN details of 219 donations through which the parties collected a total of Rs 4.95 cr.

According to the organization's findings, undeclared, incomplete or incorrect PAN details are being similarly filed by these national parties over the last five years.
As per the report, 5569 donations worth Rs 453.61 cr with undeclared, incomplete or incorrect PAN details were furnished by the national parties between the financial years of 2012-13 and 2017-18. Out of this, a total of 5437 donations worth Rs 438.96 cr (96.77%) were declared without PAN details and 132 donations worth Rs 14.65 cr (3.23%) were declared with incomplete or incorrect PAN information.


Image: Donations with Undeclared, Incomplete or Incorrect PAN details in Contributions Reports of National Parties, FY 2012-13 to 2017-18
BJP, the prime perpetrator
According to ADF's study, of the total donations declared by National Parties without PAN details during 2012-13 to 2017-18, BJP declared the highest donations amounting to Rs 281.55 cr (64.14%), followed by INC which collected donations worth Rs 150.59 cr (34.31%) and CPI with such contributions worth Rs 5.07 cr (1.16%).
BJP also takes the lead in collecting the highest donations worth Rs 8.10 cr with incomplete/incorrect PAN details of donors during this period.
As per the ADF study report, parties offer incomplete or incorrect PAN details by incorrectly arranging the alphabets and numbers on PAN.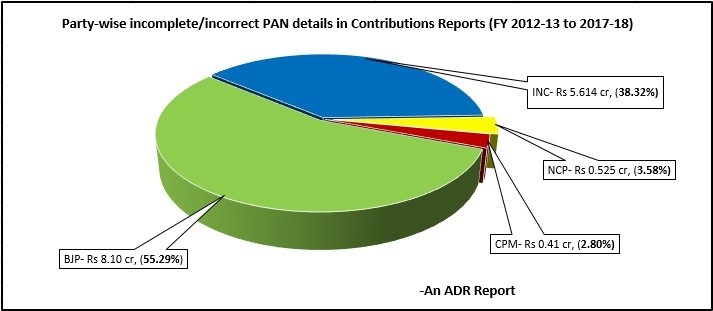 Image: Party-wise donations with incomplete/incorrect PAN in Contributions Reports, FY 2012-13 to 2017-18
Of the total donations, National Parties declared a total of 77 donations worth Rs 6.825 cr having an incorrect arrangement of alphabets and numbers in PAN.
Here, INC collected the highest amount of such donations while BJP collected the maximum number of these donations.
47 donations collected by National Parties from corporate/business houses have incomplete PAN details of donors worth Rs 13.67 cr (93.31%)
According to ADR's sector-wise donation analysis as well BJP is the worst offender. The party collected the highest amount of donations with incomplete PAN details from corporate/business houses worth Rs 7.55 cr (55.23%) from 29 donations followed by INC which collected three donations of Rs 5.42 cr (39.65%).
ADR calls this action of National Parties, a routine violation of the Supreme court order. According to the Supreme Court ruling of September 13 2013, no part of the Form 24A submitted by political parties providing details of donations above Rs 20,000 should be blank.
"It is suggested that the ECI publicizes on its website details of the action taken (if any) against political parties that fail to provide required details (such as name, address, PAN and mode of payment) of individuals, companies or entities making donations in cash," the ADR said in its report.
"Incomplete contributions reports having missing or incorrect PAN/mode of payment details must be returned to the parties by the ECI, to deter them from providing incomplete information," the report added.