Hyderabad: An 11-year-old boy suffering from a rare skin disease was successfully treated by a doctor from Nalgonda's Government General Hospital. This is one of the rare cases where a patient was successfully treated in a government hospital after parents spent lakhs in corporate hospitals but in vain.
Shankar Reddy of Madugalapalli mandal suffered from Hematidrosis, an extremely rare condition in which a person sweats blood. He was not born with the skin disease. One day in August 2017 he suddenly started bleeding. Shankar's father Venkat Reddy told Newsmeter, "His ears started bleeding suddenly three years ago. We thought he had some problem in his ears so we took him to a doctor who said there's nothing wrong with him. After some time his second ear started bleeding so we took him to other hospitals and they said the same."
Shankar used to bleed about 10-15 times a day from various parts of his body. His school schedule was disturbed for a year after the school authorities told him to opt for home study as other students were getting affected because of his sudden bleeding.
The parents had tried all possible treatments but were disappointed since no hospital was able to treat their son's skin disease despite spending around Rs. 4-5 lakhs in corporate hospitals. When someone referred them to the Government General Hospital, the couple brought their son there to see Dr Yenna Suresh Reddy.
In December 2018, Venkat Reddy took Shankar to Dr Suresh Reddy, where he was kept under observation for a few days. Shankar had to undergo some tests at the government hospital and the doctor went through his previous reports. Dr Suresh Reddy started his treatment at the outpatient ward of the general hospital. Within a few weeks, Shankar started responding to the treatment and in three months he was completely cured.
Dr Suresh Reddy told Newsmeter, "He did multiple tests in private hospitals and all his reports were normal. The parents have spent about Rs 4-5 lakhs. Many hospitals did many tests but could not diagnose him. When he came to us we reviewed the reports and did some basic tests. With his case history, symptoms, and unique presentation we reviewed the medical literature. We started the medication and in a few weeks, he showed improvement. Within three months, Shankar was completely cured and that too free of cost. He will have to take medication until he is a teenager."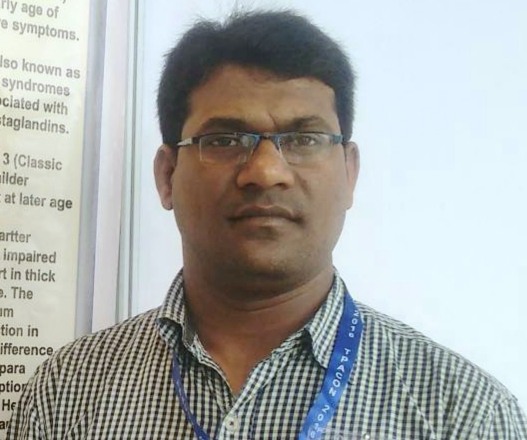 He said, "Until I met Shankar I was not aware of this rare disease. When I studied his case I got to know that there are more than 40 recorded cases across the world. There's a theory that usually blood sweating happens during anxiety so we started treating him for anxiety. Due to anxiety blood vessels under the skin may get ruptured and blood comes out from the sweat glands. However, the exact cause is still unknown. We started treating him for anxiety and within two to three weeks he started responding positively. Since the past three months, he hasn't bleed at all. In between, he had stopped taking the medication so he had started bleeding but I put him back on medication again and now he is not bleeding. His parents are very happy now as he is cured and their child can go back to school again."
The doctor said, "We sent the case study to Gandhi Hospital and they, too, are surprised with the diagnosis and the treatment. After this successful treatment, I just want to say that government hospitals are no way less than any private or corporate hospitals. It's just that we have our limitations. Miracles can happen in government hospitals if patients trust us."
Meanwhile, Venkat Reddy said, "We spent lakhs of rupees in corporate hospitals but no doctor could diagnose or treat this rare disease. But when we met Dr Suresh Reddy he studied our case and started treatment and my son has stopped bleeding. Our son started going to school again."