Hyderabad: Four veterinary doctors have been roped into work for TSRTC (Telangana State Road Transport Corporation) in the wake of the ongoing strike, that entered its 11th day . The District Collector of Wanaparthy on October 14 ordered four Veterinary Assistant Surgeons (VAS) to appear for duty on deputation at the RTC Bus depot in Wanaparthy. The orders indicates the state of affairs in Telangana following  48,000 employees observing the strike
According to the order ( a copy with NewsMeter ) , the surgeons were asked to report before the TSRTC Depot Manager in Wanaparthy and "follow the instructions of the Depot Manager until further orders". The government's plan on setting up alternative arrangements has resulted in these vets being deputed as RTC employees for the time being.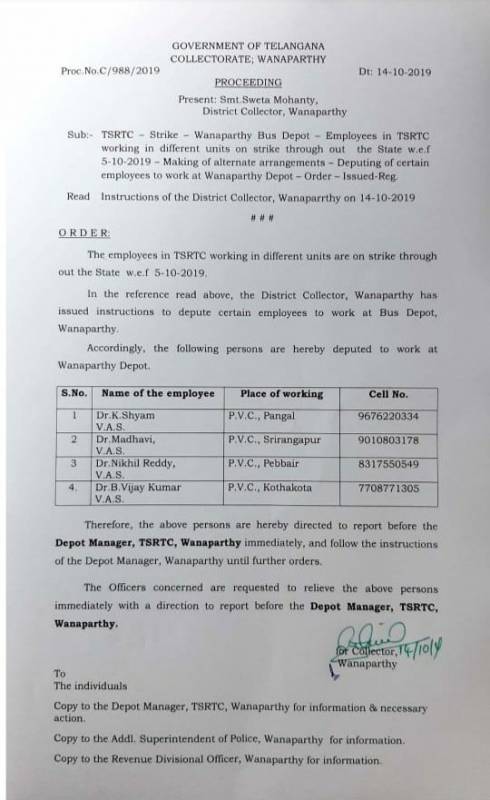 The order also asks concerned officers to relieve the doctors of their present duties and directs them to report before the Depot manager , immediately. The four doctors are Dr. K. Shyam, Dr. Madhavi, Dr. Nikil Reddy and Dr. B. Vijay Kumar , all VAS.
One of the doctors told NewsMeter, "Four doctors from Wanaparthy got the order to work in the district's RTC department on deputation. Today, we tried to talk to the District Collector in the hope of getting an exemption from this duty. However, the Collector has not given any clarity on the issue."
On being asked whether they will report for RTC duty tomorrow, he replied that the matter is under discussion. "All four of us are in a dilemma on what to do and what not to do. We are technically skilled for the animal and livestock health department in preventive and curative capacity. Moreover, we are not interested in working on other duties. Today, we didn't report for duty as well," said the doctor who has been working at the PVC for almost three years now.
Another doctor put forth the point that medical services are an emergency service, and their duties cannot be shifted around like this. "We told the Collector that our service is an emergency service. Outbreaks are on the rise, and many cases keep coming. We tried to discuss with the Wanaparthy District Collector, but she said no, 'you have to do the duty'. Our association is planning to approach the Directorate of Animal Husbandry in Hyderabad soon, so that we may take up this issue further," said the Veterinary Officer while speaking to NewsMeter.
Going by the doctors, they seem not to be in favor of this order.