Donate plasma to help Covid patients in early infection stage: Governor Tamilisai Soundararajan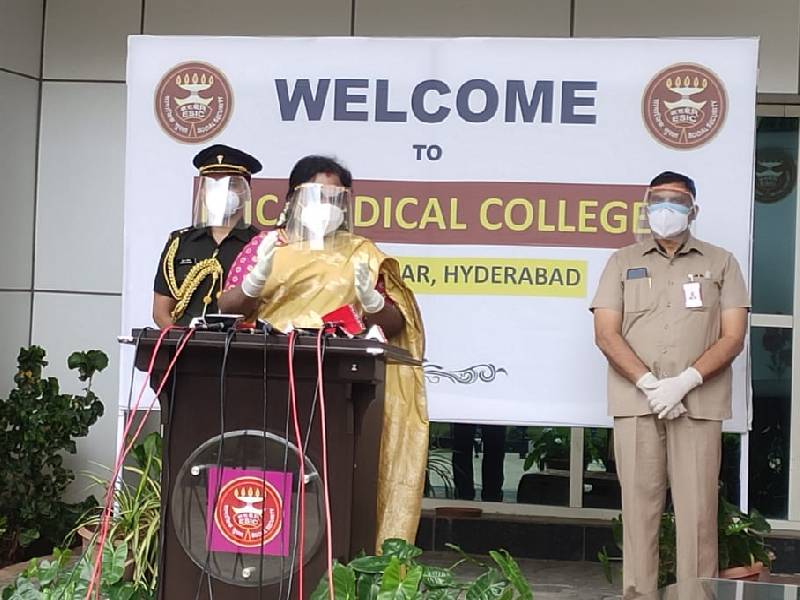 Hyderabad: Telangana Governor Tamilisai Soundararajan on Saturday visited the ESIC Medical College, Sanath Nagar, to see the Plasma Bank opened by the hospital.
The ESIC Medical College got permission from the ICMR to conduct randomised controlled trials to assess the safety and efficacy of the convalescent plasma for treatment of Covid-19. Earlier, Gandhi Hospital has opened a Plasma Bank.
Speaking on the occasion, the Governor asked the people to donate plasma to help the Covid patients in the early stage of infection.
"On social media, I receive hundreds of text messages regarding plasma treatment every day and I request all the donors to come forward and save patients in Telangana. I don't want people of Telangana to die due to lack of plasma," she said.
Also, the ESIC Medical College has introduced mobile virology diagnostic and research laboratory, in collaboration with the Defence Research & Development Organisation (DRDO).
Doctors at ESIC Hospital said that plasma therapy at an early stage will increase the chances of recovery of the patient. "Donors who want to come forward should get tested for antibodies first. We need plasma antibodies as they will help in creating resistance against the virus," said Dr Srinivas, a practitioner at the ESIC Medical College.
After the facility was started, four patients turned up to donate plasma, so far. Tamilisai Soundararajan supported the work done by the Telangana government. "I came here as a common citizen. My aim is to cooperate with the people of the state. I stand with the government in their fight against Covid-19," she said.
She asked the people to maintain social distance and come out of their houses only when there is a emergency need. She also thanked the doctors, police personnel, health workers, sanitary staff and all the frontline warriors for their services