News Meter Network Hyderabad
Directorate of Revenue Intelligence Vijayawada sleuths on Tuesday unearthed a stat tortoise smuggling racket and seized 500 Indian star tortoises from the possession of the accused.

DRI intercepted the accused passenger travelling from Vijayawada to Ahmedabad in Navjeevan Express in AC coach at Vijayawada Railway Station and checked the bags in which the start tortoises are smuggled. concealed in the bags. The accused confessed that he collected the star tortoises from Kadiri. He was asked to take the consignment to Ahmedabad and deliver to a person for export to different countries.
To ascertain the exact species of the tortoises, the services of the officials of Andhra Pradesh Forest department was sought.

During the proceedings, the District Forest Officer, Krishna District, Vijayawada and the Forest Range Officer, Vijayawada Range have inspected and certified that the tortoises to be the Indian Star Tortoises with the scientific name 'Geochelone elegans'. The Veterinary Assistant Surgeon, Govt., Veterinary Dispensary, Vijayawada certified that all the 500 tortoises are in healthy condition.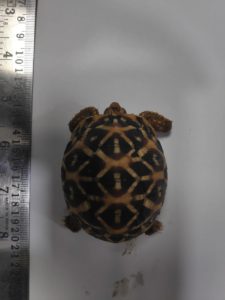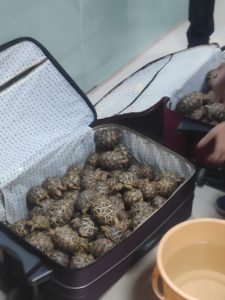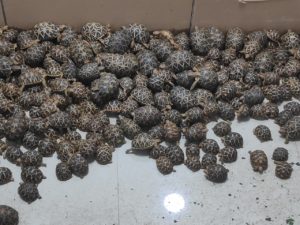 The Indian Star Tortoises being declared 'vulnerable' by 'IUCN' – International Union for Conservation of Nature and also protected under 'CITES' – Convention on International Trade in Endangered Species.

DRI said that the active assistance of Railway Protection Force, the Train Ticket Examiner and the Forest department officials of Andhra Pradesh has culminated into the seizure of the said tortoises. DRI handed over the seized Indian Star Tortoises numbering 500 to the Forest Range Officer, Vijayawada for safe custody.

DRI arrested the Person involved in the illegal transport of Indian tortoises for export out of India has been arrested under Customs Act, 1962.