Srinagar: Tears rolled down his cheeks and hands went up in prayers when top veterinarian Dr Mohammad Shafi Bazaz learnt that disgraced Deputy Superintendent of Police Davender Singh has been arrested by the police.
Dr Bazaz's teenage son Aijaz Ahmad Bazaz was allegedly killed by disgraced Singh after allegedly torturing him in custody for more than a week in 2000. Pursuing B.Sc from Gandhi Memorial College, Aijaz was picked by Singh when he was walking down the street at posh Lal Bazar, Srinagar.
Twenty years later, Dr Bazaz shudders with pain when he recalls the day he received a tortured body of his son. "It was June 22, 2000 when he (Singh) killed my innocent son. He picked our son from Lal Bazar and demanded Rs 40,000 bribe from us. We arranged the money. But he had already killed Aijaz", said Dr Bazaz, a resident of Mandir Bagh, Srinagar.
Nicknamed `Torture Singh', he was notorious for tormenting people in custody when he was posted at Special Operation Group (SOG) Srinagar. Singh was also named in the report entitled `Structures of Violence' released by J&K Coalition of Civil Society and other groups in 2015. His name figured as case no 129 in which he was accused of killing Aijaz Ahmad Bazaz allegedly in custody.
"We had put up our case before Almighty Allah. And today God has come to our rescue. He killed our son in cold blood and God will not leave him. We are looking for a divine justice", said Dr Bazaz.
Aijaz was one of the two children of Dr Bazaz who is a reputed veterinarian in the civil lines area of Srinagar. "Now I and my wife are only left in the family. We both are not well and bed-ridden. Besides Aijaz, I have one daughter. Let my son rest in peace", said Bazaz, who turned emotional.
Singh, who was posted in anti-hijacking wing at Srinagar Airport, was arrested along with Hizbul commander Naveed Babu and Altaf when they were travelling in a car from Shopian district of South Kashmir on Saturday. Police sources said Singh was trying to drive Hizbul commanders out of the valley. Two AK-47 rifles were recovered in a subsequent raid at Singh's house in Srinagar.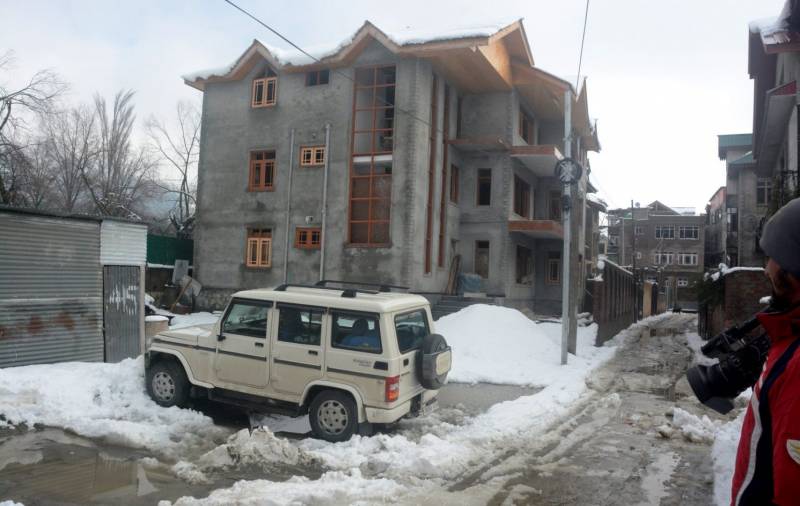 Embarrassed by Singh's forays, Jammu and Kashmir government has now forfeited his Sher-e-Kashmir police medal. An order by Principal Secretary, Home Department Shaleen Kabra said arrest of Singh on January 11 while trying to assist militants to travel outside Jammu and Kashmir, and recovery arms and ammunition amounts to disloyalty and misconduct.
"DySPs arrest has brought disrepute to the force and consequently the Sher-e-Kashmir police medal awarded to him on August 14 is hereby forfeited", said Kabra
Director-General of Police, Jammu and Kashmir, Dilbag Singh said they have recommended NIA investigation and termination of Singh's services from the police department.
It was after 19 years that law has finally caught up Singh. Executed Parliament attack convict Afzal Guru had exposed his role in the entire conspiracy but that was largely ignored.
In his letters from jail, Guru had written that Singh was the person who handed over Mohammad, one of the four slain in parliament attack, to him. Guru was allegedly asked to arrange logistics including safe house and transport for the parliament attackers in New Delhi in 2001.
"Whosoever will be found involved in the nexus (between militants and Singh) will not be spared. If anything comes out during investigation about his involvement (in the Parliament attack), it will be looked into", said Dilbag Singh, Director General of Police, Jammu and Kashmir.
Singh was appointed as sub-inspector in Jammu and Kashmir police in the early nineties. Soon after he was posted in a police station and in one of his operation he recovered narcotics but did not reflect it on the papers. He was suspended but eventually reinstated.
Later, he joined Special Operations Group, counter-insurgency wing of Jammu and Kashmir police, to take on the militants. One of the dreaded cops, he has been accused of human rights abuses and extortion.
"He was in SOG Cargo and Humhama for a long time. He conducted several anti-militancy operations. Last year he was even given a state award for his role in counter-insurgency operations. Despite being darling of the department, he did not have a clean slate. When he was posted in Traffic department, he was alleged to extort money from motorists", said a top official.
Sources said multi-agency sleuths are interrogating him to find out his role and any other false-flag operation he might have conducted. So far, it has been established that he was hiding militants in his home and even couriering their weapons using his privilege as a policeman.