Dump yard burning creating health concerns in Hyderabad; problem persists despite repeated complaints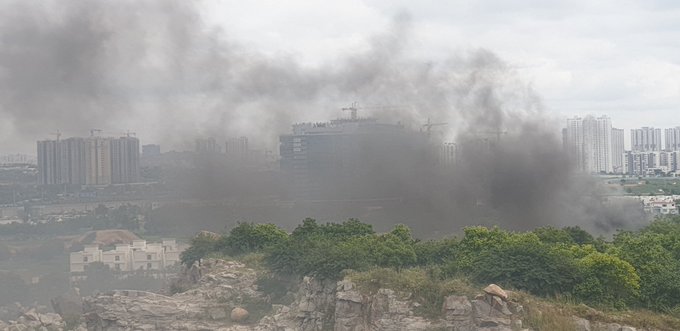 Hyderabad: While Hyderabad hosted the 50th Union World Conference on Lung Health, its residents are choking due to the thick toxic fumes arising from burning carcinogenic plastic waste. Despite repeated complaints from residents, the situation has only worsened. The illegal garbage dumping and burning on empty plots continue to put public health at stake.
Former MP Konda Vishweshwar Reddy tweeted, "This is criminal negligence from the part of authorities. If you go to Hitec city, you can see 1km-long smoke overlooking the financial district."
In spite of the Telangana government's ban on burning waste materials in open land, several empty plots in the city have turned into mini-dump yards. The pungent smell of burning rubber and plastic has made it difficult to breathe.
Karthikeyan, a Hitec city resident, said, "All areas in the financial district suffer from poor hygiene. The weekly market in Nanakramguda, Khajaguda causes more garbage dump in one day than you can imagine."
Ameerpet dump yard, which is close to 5,000 houses, was supposed to be temporary. However, today, it has turned out to be a permanent spot for dumping the city's garbage.
Sir , could you please also look at Ameenpur Illegal Dump Yard issue. It's impacting health of kids n elder. It's adjecsnt to many residents colonies. @AVRWA1 pic.twitter.com/bLecflXQoP

— Kuldeep Sharma (@kullu_sharma) November 2, 2019
Open burning of waste poses a health risk to especially those with sensitive respiratory system apart from children and elders. Exposure causes nausea, headache and rashes, and over time, it can increase the risk of having developing heart diseases.
Responding to the issue, C Vinod Kumar, another resident, said, "Hyderabad may soon cross smog records of Delhi if such burning of thrash continues making life a hell."
@keerthi81891283) wrote on Twitter, "It's a social responsibility. Irrespective of politics and everyone needs to pay attention to this matter before it gets out of control. Open lands are not dumping yards to pollute the rest of the environment. Plastic waste has become a burden."