Hyderabad: The Civic authorities in coordination with Cyberabad Traffic police have decided to keep the Cable stayed bridge at Durgam Cheruvu closed for vehicular traffic on weekends.
A statement from the Cyberabad Police authorities said, ' The vehicular movement will be closed on the Durgam Cheruvu cable on weekends, beginning from Friday night 10 pm to Monday Morning 6 am. Only visitors will be allowed.
As the traffic flow from two sides, that is ITC Kohinoor side and Road No 45 side is more, multiple parking areas are being identified on both sides by Cyberabad and Hyderabad traffic in coordination with GHMC and TSIIC, the statement said. The officials met on Wednesday to discuss various traffic arrangements.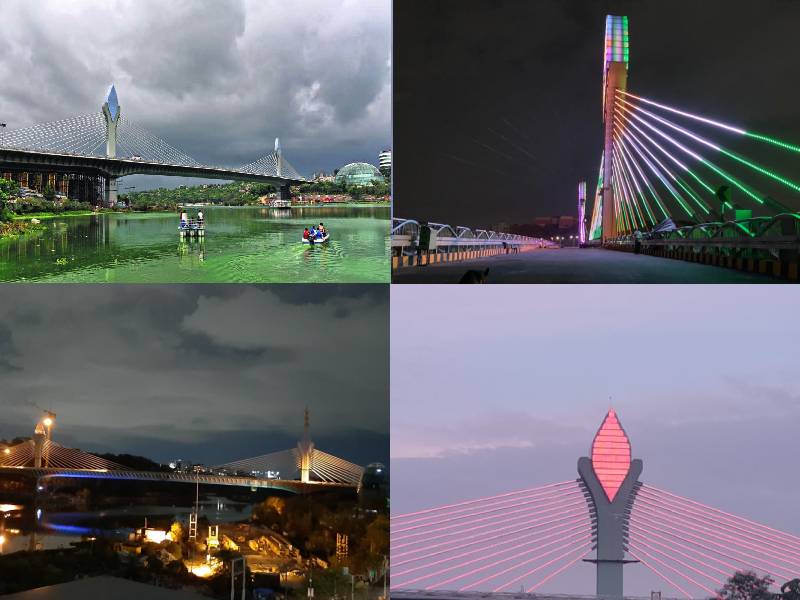 On the 25 September the cable-stayed bridge across Durgam Cheruvu was opened for public
Besides connecting areas of Hitech City and Financial District with other parts of Hyderabad, the iconic structure will help relieve congestion on Road No. 36 of Jubilee Hills and Madhapur.
The 1,740 mm bridge built at a cost of Rs. 150 crores will reduce the distance from Jubilee Hills to Mind Space and Gachibowli by two km.
Even though the total length of both the cable-stayed bridge and the flyover is 2.7 km, a hassle-free corridor of about 6 km has been created from the Road No. 45 junction to Meenakshi Towers, Gachibowli, which is also a part of the major corridor from Punjagutta to Nanakramguda, i.e, IRR to ORR.
Road No. 45 to Mind Space Junction via Durgam Cheruvu forms the channel to provide a traffic conduit between Hitech City, Mind space, Gachibowli to other parts of Hyderabad.
The Durgam Chervvu bridge, which took three years to build, is part of the strategic road development plan taken up at an outlay of about Rs. 29,695 crores to comprehensively solve traffic problems in the twin cities.